The Global South & Unequal Burdens
This webinar will occur on Wednesday, April 20 from noon to 1pm (CT): https://uiowa.zoom.us/j/94369571045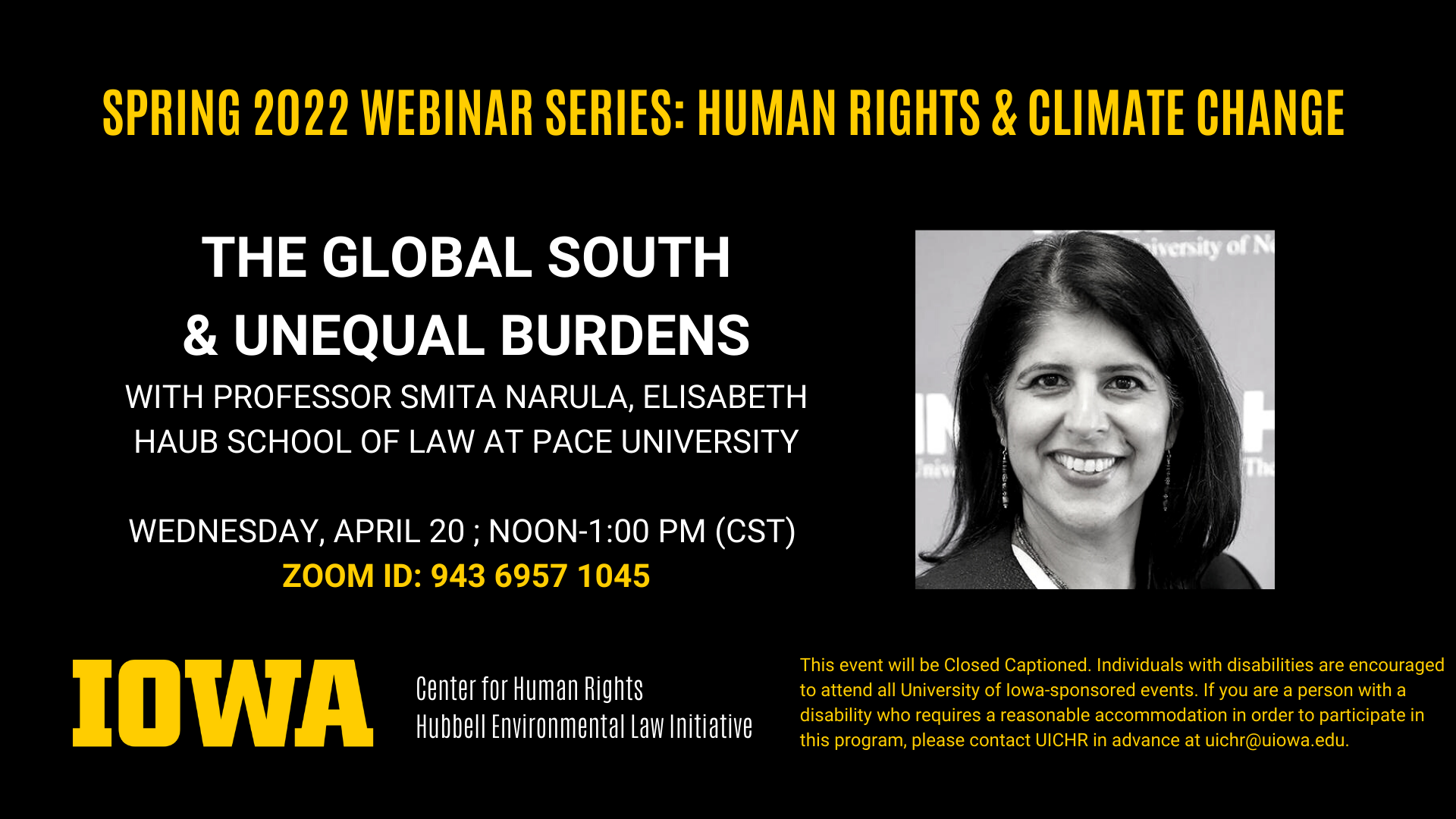 Presentation of this webinar is by Smita Narula, Haub Distinguished Professor of International Law at the Elisabeth Haub School of Law at Pace University. A recent chapter publication by Smita Narula is available in Climate Change Law.
Professor Smita Narula is the Elisabeth Haub School of Law's inaugural Haub Distinguished Chair of International Law. Professor Narula  has founded and directed numerous non-profit and higher education initiatives dedicated to the promotion and protection of human rights and to social and ecological justice. Prior to the Elisabeth Haub School of Law, she was the Distinguished Lecturer and Interim Director of the Human Rights Program at the Roosevelt House Public Policy Institute at Hunter College. 

Prior to Hunter, Professor Narula was an Associate Professor of Clinical Law at NYU School of Law where she taught the International Human Rights Clinic and served as Faculty Director of the Center for Human Rights and Global Justice. In these capacities, she helped found and grow the law school's human rights program—a top-ranked program for international law in the United States.
In 2008 she was appointed legal advisor to the U.N. Special Rapporteur on the Right to Food and served in this capacity for the duration of the Rapporteur's six-year mandate. From 1997 to 2003, Professor Narula served as India researcher and Senior Researcher for South Asia at Human Rights Watch, and in 2000, she co-founded the International Dalit Solidarity Network, a transnational advocacy network that helps advance the right to equality for 260 million people affected by caste-based discrimination worldwide.
Professor Narula is author of dozens of widely-cited publications, and has helped formulate policy, legal, and community-led responses to a range of social justice and ecological issues worldwide. She regularly advises the U.N. and briefs government officials, civil society groups, and the media on issues related to human rights, food systems, and the sustainable and equitable management of land and natural resources. Professor Narula graduated with honors from Harvard Law School where she was editor-in-chief of the Harvard Human Rights Journal. Prior to law school, she earned a B.A. and M.A. with honors from Brown University, and worked on HIV and public health issues at UNICEF and the United Nations Development Fund.