Intergenerational Rights & Duties
This webinar occurred and the recording is available on YouTube.
The second webinar in our climate change and human rights series will feature the work of Our Children's Trust, a public interest law firm that represents young people in legal efforts to secure their right to a stable climate. Mat dos Santos, the Managing Attorney at Our Children's Trust, will talk about climate litigation on behalf of youth in the United States and the movement toward recognition of the right to a sustainable environment internationally.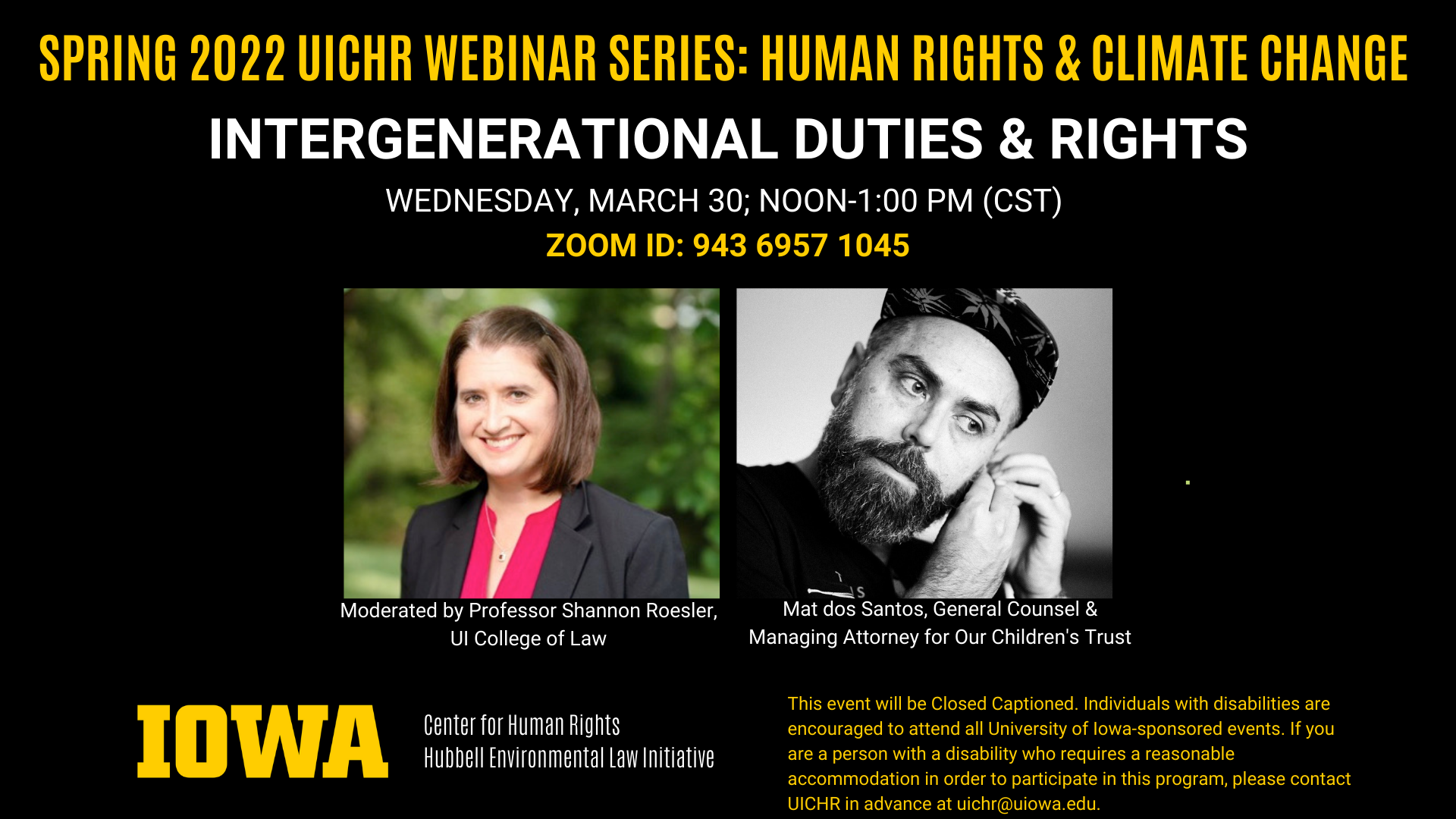 Moderated by Shannon Roesler, UI Professor of Law
Professor Roesler's scholarship focuses on issues of environmental justice, environmental governance, climate change litigation, and land use. Her work has appeared or is forthcoming in edited volumes and law journals such as the Georgetown Law Journal, the Florida Law Review, and the U.C. Davis Law Review. She also currently serves on the board of the Environmental Law Collaborative.  
Prior to joining the faculty at Iowa Law in 2021, Professor Roesler was the Robert S. Kerr, Jr. Professor of Natural Resources and Environmental Law at Oklahoma City University School of Law where she received the Outstanding Faculty Award in 2019. After law school, she clerked on the United States Court of Appeals for the Tenth Circuit and worked as a staff attorney and teaching fellow in the International Women's Human Rights Clinic at the Georgetown University Law Center. She was also a visiting faculty member at the University of Kansas School of Law. 
Featuring Mat dos Santos, General Counsel and Managing Attorney, Our Children's Trust
Mat dos Santos is the General Counsel and Managing Attorney at Our Children's Trust. Mat currently oversees the legal program at Our Children's Trust, which brings climate litigation on behalf of youth in federal and state courts in the United States and tribunals across the globe. Prior to joining Our Children's Trust, Mat served as the legal director at the ACLU of Oregon and worked on a variety of civil rights issues including LGBT rights, immigration, and criminal justice reform. Mat is currently on the board of directors at the Transgender Law Center, Latino Network, and the Chosen Family Law Center. When they are not busy fighting for basic human rights, Mat loves spending time writing music and climbing mountains with their partner Clay and two dogs Aela and Tuco.