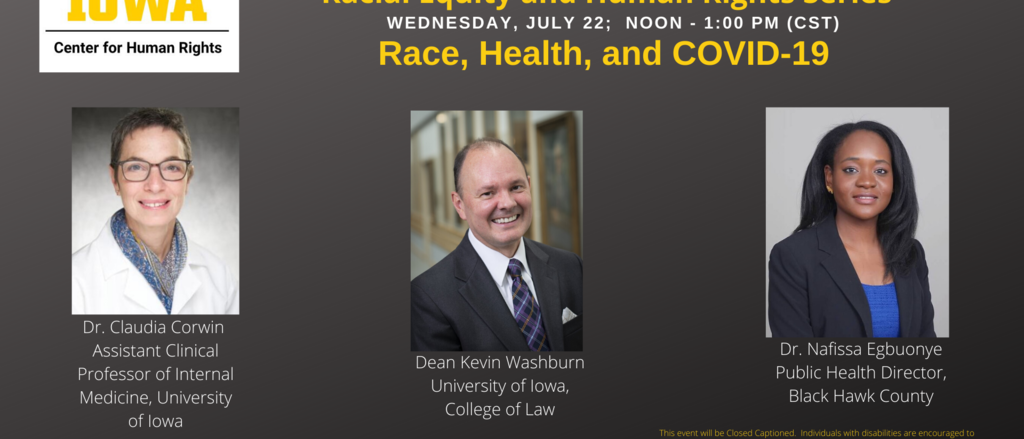 Race, Health, and COVID-19
Recording of the webinar held on Wednesday, July 22 with panelists Dean Kevin Washburn, University of Iowa College of Law; Dr. Nafissa Egbuonye, Black Hawk County Health Department Director; Dr. Claudia Corwin, Assistant Professor of Internal Medicine, University of Iowa. It was moderated by Colleen Opal, Program Coordinator, UI Center for Human Rights.
Please also see the resources below the webinar for further information.
Resources
Fresh Fruit, Broken Bodies: Migrant Farmworkers in The United States (2013) by Seth M Holmes. University of California Press. 
American Indian Reservations and COVID-19: Correlates of Early Infection Rates in the Pandemic (July/August
     2020), by Desi Rodriguez-Lonebear, Nicolás E. Barceló, Randall Akee, Stephanie Russo Carroll. Journal of Public     
     Health Management and Practice:        
     https://journals.lww.com/jphmp/Fulltext/2020/07000/American_Indian_Reservations_and_COVID_19_.14.aspx
COVID-19 and Indian Country: A Legal Dispatch from the Navajo Nation (May 5, 2020), by Paul Spruhan.
     Northwestern University Law Review Of Note: 
     https://northwesternlawreview.org/uncategorized/covid-19-and-indian-country-a-legal-dispatch-from-the-navajo-nation/
Indian Lives Matter: Pandemics and Inherent Tribal Powers (June 2020), by Matthew L.M. Fletcher. Stanford Law
     Review Online: https://www.stanfordlawreview.org/online/indian-lives-matter/
Rural Matters: Coronavirus and the Navajo Nation (April 24, 2020) by Heather Kovich. New England Journal of
     Medicine: https://www.nejm.org/doi/full/10.1056/NEJMp2012114