This webinar recording is available on YouTube.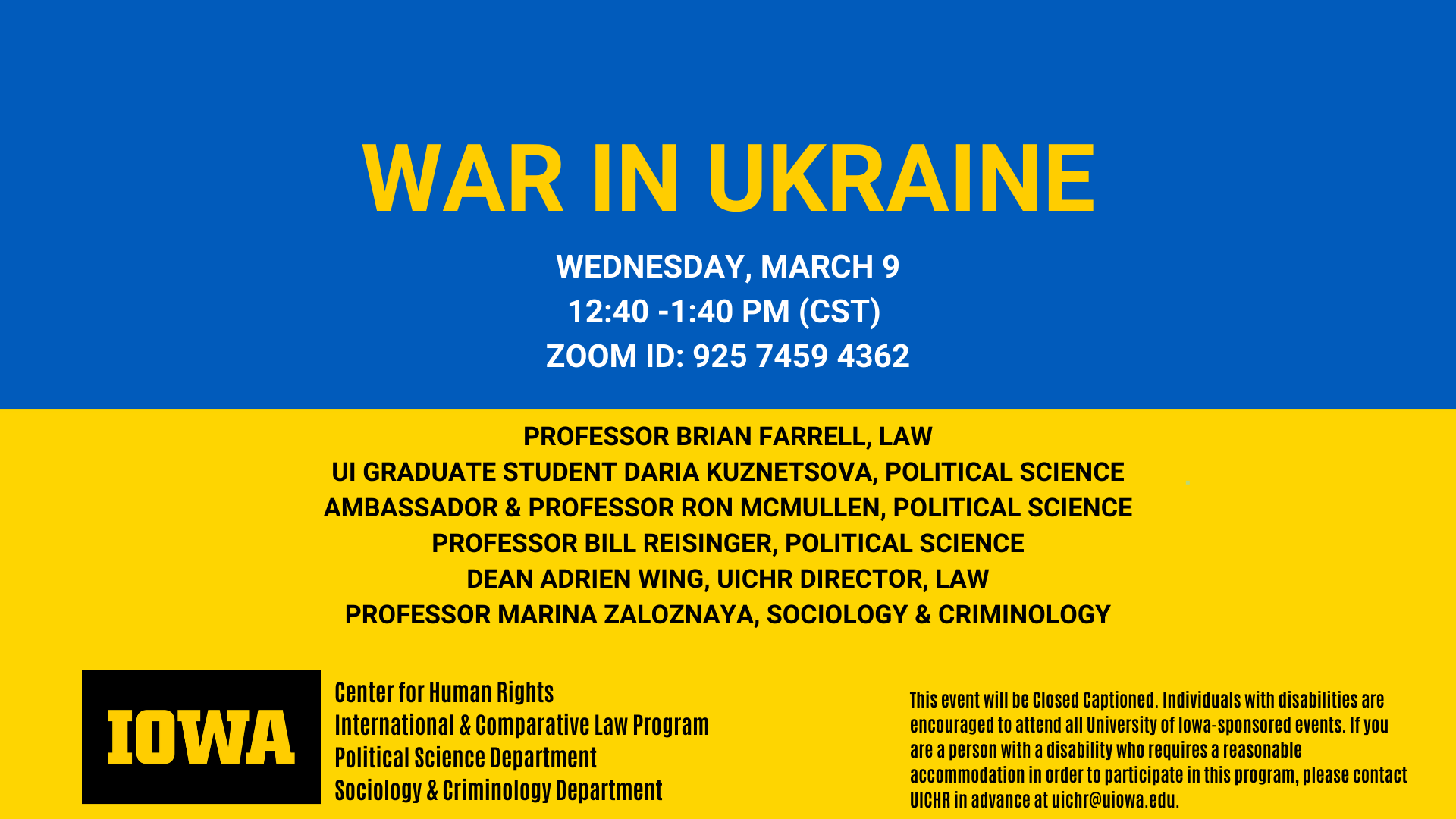 ---
Professor Brian Farrell, Law
Brian Farrell is an Associate Professor of Instruction in Law and the Associate Director of the UI Center for Human Rights. His teaching and scholarship focus on international law, human rights, and criminal law. Brian is also an adjunct lecturer at the Irish Centre for Human Rights and was a Fulbright Senior Lecturer at Sofia University in Bulgaria. He received his JD from the University of Iowa and his LLM and PhD from the National University of Ireland Galway.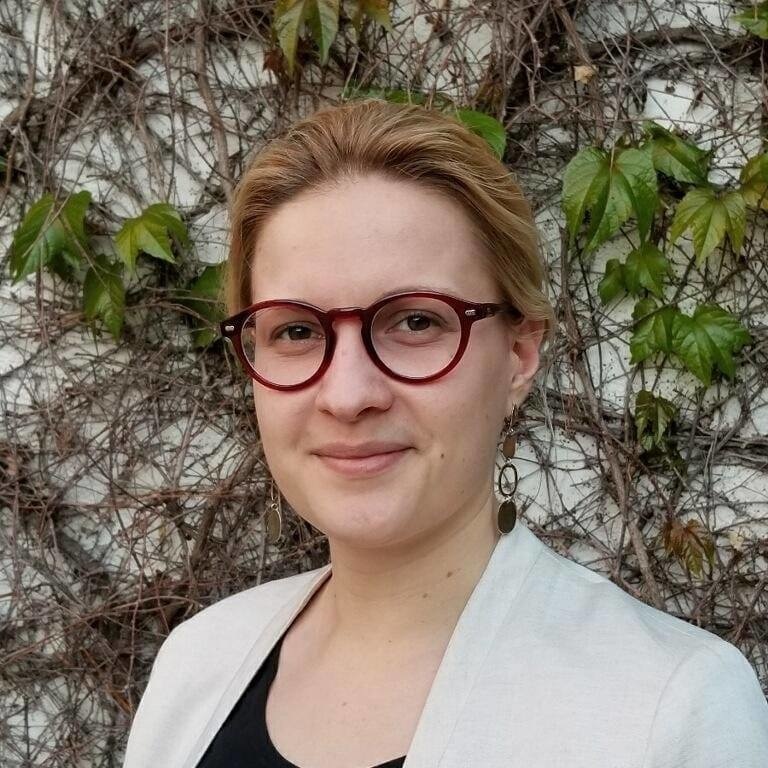 UI graduate student Daria Kuznetsova, Political Science
Daria studies the effects of digital media and information communication technologies on protests and regime change. She is also interested in decentralization policies and how decentralization of the government affects the quality and access to public services.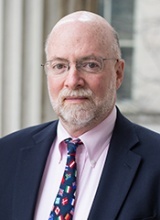 Ambassador & Professor Ron McMullen, Political Science
Ron McMullen is the University of Iowa's Ambassador in Residence and teaches a variety of courses on comparative politics, diplomacy, and international politics.  Ron is a former career diplomat with over 30 years of experience as a U.S. Foreign Service Officer, including serving as ambassador to the State of Eritrea.  He has lived, worked, or traveled in 105 countries.  In Burma he worked closely with Nobel Peace laureate Aung San Suu Kyi and pro-democracy groups.  While posted in Fiji he helped prevent civil conflict after an armed takeover of parliament.  He was shot at during a riot in Sri Lanka and helped train mongooses to detect heroin.  He survived a voodoo curse in the Dominican Republic and took Hillary Clinton on a tour of South Africa's Robben Island with Nelson Mandela.  Between foreign assignments, Ron served for three years as Visiting Professor at the Military Academy at West Point, where he taught international relations and comparative politics.  He was Diplomat-In-Residence at the University of Texas at Austin 2010-2012.  He has authored many scholarly works, is a three-time recipient of the State Department's Superior Honor Award, and holds the U.S. Army's Outstanding Civilian Service Medal.  A native of Northwood, Iowa, he earned his doctorate in political science from the University of Iowa.
Professor Bill Reisinger, Political Science
William M. Reisinger is Professor of Political Science at The University of Iowa. He received his Ph.D. from the University of Michigan and joined the University of Iowa faculty in 1985. His research concerns politics in the former communist states, especially Russia. His publications include six books and numerous articles or book chapters. He travels frequently to Russia and has conducted research as well in China, Georgia, Ukraine and Uzbekistan. He teaches courses on democratization, authoritarian politics and the politics of the post-communist countries.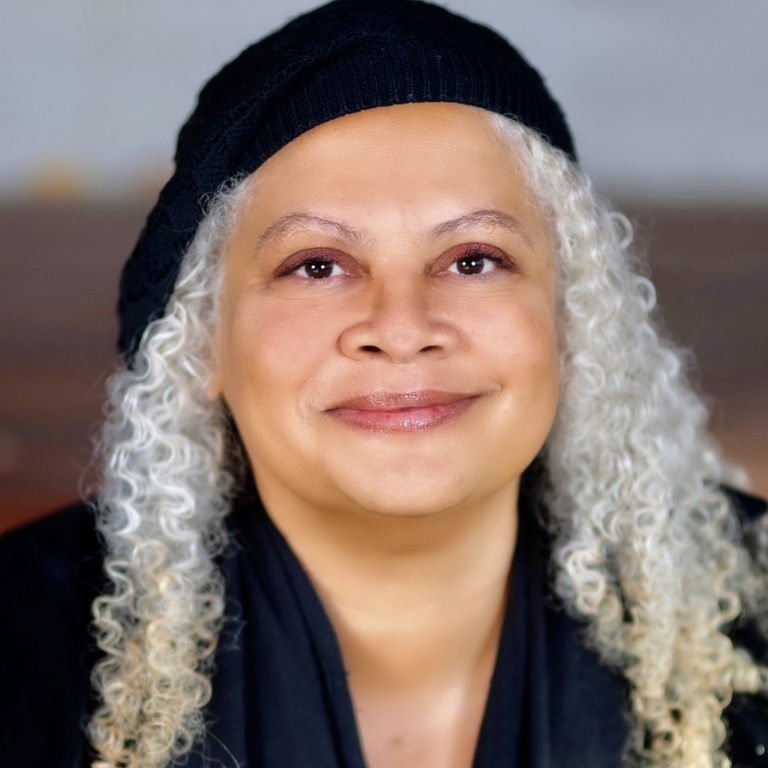 Dean Adrien Wing, UICHR Director, Law
Adrien K. Wing is the Director of the University of Iowa Center for Human Rights. Additionally, she is the Bessie Dutton Murray Professor at the UI College of Law, where she has worked since 1987. She presently teaches International Human Rights, Law in the Muslim World, Sex Discrimination Law, and Critical Race Theory. Wing also serves as the Director of the Law School's summer abroad program in France and is the former on-site Director for the London Law Consortium semester abroad program.
She is, in addition, a member of The University of Iowa's interdisciplinary African Studies faculty and North Africa/Middle East faculty groups. Author of more than one hundred and fifty publications, she has placed particular emphasis on women's rights in the Middle East, Africa, and the United States. She advised the founding mothers and fathers of the South African, Rwandan, and Palestinian constitutions.
Prior to coming to Iowa, she was an international lawyer in New York for five years. After receiving her Bachelor of Arts degree from Princeton with high honors, Professor Wing earned her Master of Arts degree in African studies from UCLA. She obtained her Doctorate of Jurisprudence degree from Stanford Law School. Among her recent honors is the Regents Award for Faculty Excellence from the State of Iowa.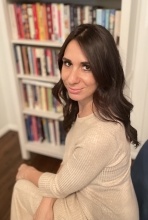 Professor Marina Zaloznaya, Sociology & Criminology
Marina Zaloznaya joined Iowa Sociology  faculty in 2012, after she received a Master's degree from the University of Wisconsin-Madison and a PhD in Sociology from Northwestern University. Dr. Zaloznaya's research explores public sector corruption, political behavior, and gender in non-democratic regimes from a range of methodological perspectives, including ethnography, survey methods, comparative-historical, and network analysis. Her first book, The Politics of Bureaucratic Corruption in Post-Transitional Eastern Europe (Cambridge University Press 2017) analyzed the impact of hybrid political systems in Ukraine and Belarus on petty corruption in local universities, from the dissolution of the Soviet Union to the present day. For her second major project, funded by two grants from the US Department of Defense, Dr. Zaloznaya and her collaborators carried out a series of national representative surveys in Russia, China, Ukraine, and Georgia. Using these rich data, they analyzed individual-level causes and gendered patterns of public sector corruption, its impact on citizens' political views and behaviors, and its embeddedness in citizens' social networks. Results of these analyses have appeared in a range of top sociology, political science, and area studies journals, such as Social Forces, Electoral Studies, Post-Soviet Affairs, etc. Dr. Zaloznaya is currently working on her second book, co-authored with Dr. William M. Reisinger, which will bring together the findings from this large comparative project.
Most recently, Dr. Zaloznaya edited a special issue of Demokratizatsiya, featuring cutting-edge law & society research on non-democratic societies with a legacy of socialism. She also started a new ethnographic and historical study of Russian women's involvement in informal economies and political resistance.
At Iowa, Dr. Zaloznaya teaches undergraduate and graduate courses in Global Criminology, Sociology of White-Collar Crime, Law and Society, Human Rights, and Comparative-Historical Methods.
---
Resources and Donation Links:
How to avoid charity scams
Make sure that where you're donating is a legitimate organization or a group that has a proven record of delivering aid.

Do your research to determine if organizations are legitimate. 

Charity Navigator

 lists reputable organizations. 

Great Nonprofits

 and 

Give Well

 has reviews of nonprofit groups and can help you see how much of your money goes directly to relief.