Evolution of Science & Policy
This webinar will occurred on February 16 from noon to 1pm (CT).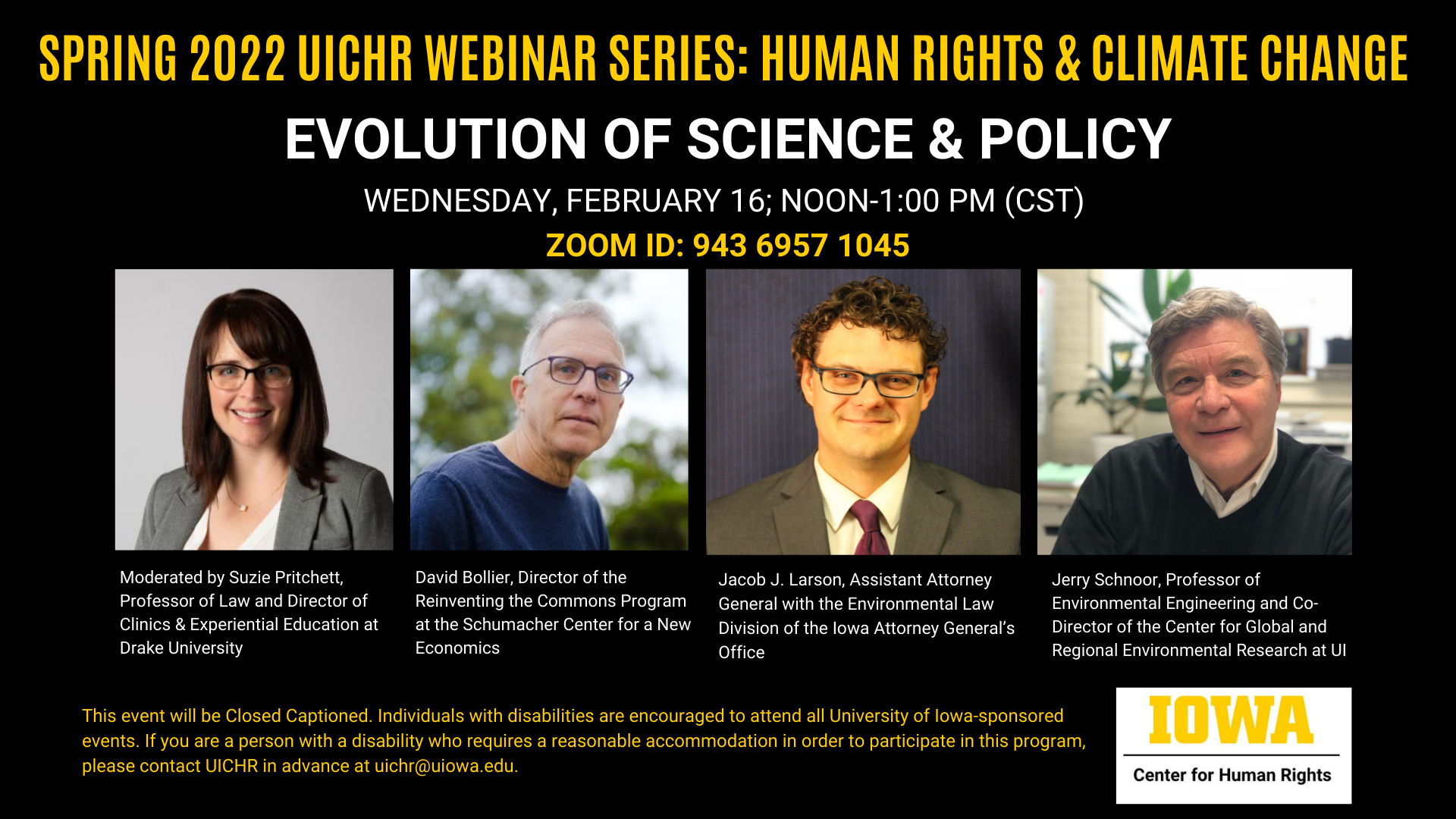 This panel is moderated by Suzan M. Pritchett, Professor of Law and Director of Clinics & Experiential Education at Drake University.
Panelists:
David Bollier is an American activist, scholar, and blogger who is focused on the commons as a new paradigm for re-imagining economics, politics, and culture. He pursues this work as Director of the Reinventing the Commons Program at the Schumacher Center for a New Economics [www.centerforneweconomics.org], and through international collaborations with commons scholars, activists, and policy experts. Bollier's blog Bollier.org and his monthly podcast Frontiers of Commoning, are popular sources of news and commentary about the commons, along with his ten books on various aspects of the commons. These include The Commoner's Catalog for Changemaking (2021) Free, Fair and Alive (2019), and Think Like a Commoner (2014).  Bollier lives in Amherst, Massachusetts.
Jerry Schnoor is Professor of Environmental Engineering and Co-Director of the Center for Global and Regional Environmental Research at UI.  He is a member of the U.S. National Academy of Engineering (elected in 1999) for his pioneering work using mathematical models in science policy decisions.  He testified several times before Congress on environmental protection, including the importance of passing the 1990 Clean Air Act.  His areas of research interest are water sustainability, phytoremediation, and climate change. 
Jacob J. Larson is the Assistant Attorney General with the Environmental Law Division of the Iowa Attorney General's Office since 2008.  Represents the Iowa Department of Natural Resources ("DNR") and the Iowa Department of Agriculture and Land Stewardship ("IDALS").  For the DNR, he primarily pursues civil environmental enforcement actions involving water pollution, solid waste, air pollution, and animal feeding operations and defends the DNR in a variety of judicial review proceedings challenging agency action.  For IDALS, he prosecutes administrative license revocation or suspension proceedings and defends IDALS in contested case proceedings, judicial review, or other litigation.  He represents the Office of the Governor of Iowa and the Attorney General's Office in multi-state litigation involving environmental and agricultural issues. His duties also include implementing the One Call Education and Enforcement Initiative, including educating excavators and operators of underground facilities of the requirements of Iowa Code Chapter 480 and, when appropriate, initiating civil enforcement actions.  Graduate of Iowa State University and received a law degree from the University of Iowa.