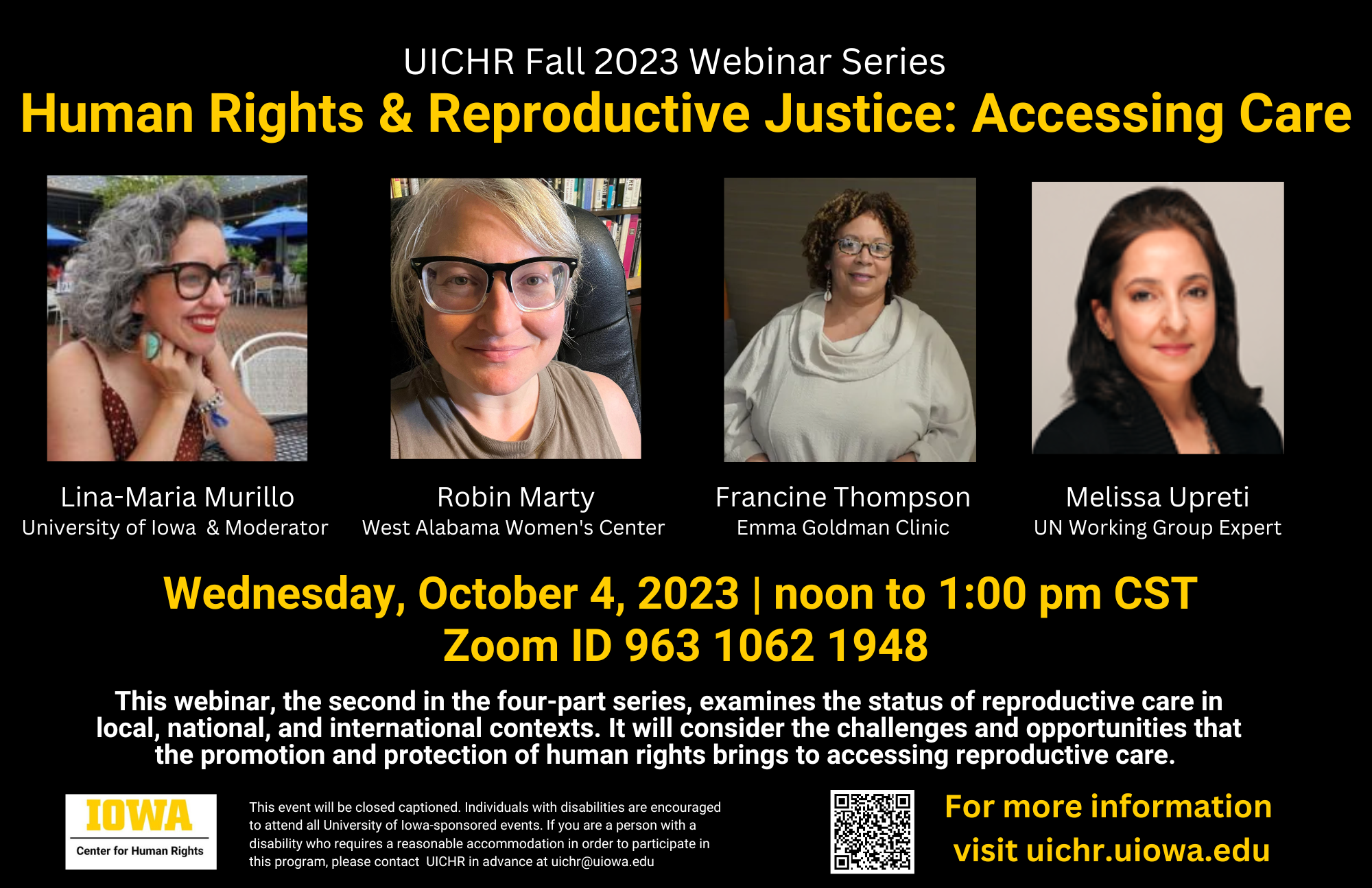 Wednesday, October 4, 2023
noon to 1:00 pm CST
Zoom ID 963 1062 1948
This webinar, the second in the four-part series, examines the status of reproductive care in local, national, and international contexts. It will consider the challenges and opportunities that the promotion and protection of human rights brings to accessing reproductive care. This event will include:
Lina-Maria Murillo received her doctorate in Borderlands History at the University of Texas at El Paso (UTEP) in 2016. She received her M.A. in 2011 from UTEP and her B.A. in History and Raza Studies from San Francisco State University in 2007. She is completing her manuscript titled Fighting for Control: Race and Reproductive Rights Activism in the U.S-Mexico Borderlands. Describing the clinics, organizations, and institutions that helped to foster access to reproductive care along the border in the twentieth century, this history reveals the tensions between advocates for population control and those committed to greater reproductive rights for the majority Mexican-origin women in the region. The study focuses on the history of Planned Parenthood along the line and shines a light on the unknown history of abortion, population control, and Chicana activism that comprised the movement in the borderlands. For her next project, Murillo is writing the biography of the unknown abortion rights activist Patricia Maginnis, who in the years before Roe v. Wade established a well-organized abortion network across the border. Additionally, Murillo focuses on the intersections of reproductive freedom, race, gender, class, and sexuality, as well as immigration and Latina/o/x subjectivities.
Robin Marty is the Director of Operations for the West Alabama Women's Center - a former abortion clinic and current full scale reproductive health center in Tuscaloosa, Alabama. A former freelance reporter on abortion rights and access, she is the author of the book "Handbook for a Post-Roe America," and "New Handbook for a Post Roe America," a guide for what to do when Roe is overturned and states make abortion illegal, and the co-author of "The End of Roe v. Wade."  Robin's work is frequently published in Time Magazine, Cosmopolitan, NBC, The Guardian, Politico and other news outlets, and she is a regular guest on MSNBC.
Francine Thompson is the Executive Director of the Emma Goldman Clinic in Iowa City, Iowa. Her 36 years as an Administrator of an independent, not for profit, feminist health care clinic that provides abortion care has given her extensive experience in reproductive health care management.  She continues to be challenged and motivated with the unending assaults within the reproductive justice and abortion care movement. Her passion includes training students and volunteers and the next generation of feminist, health care providers and activists.
Melissa Upreti is an internationally recognized human rights lawyer who has spent over two decades advancing gender equality and promoting accountability for human rights by using national, regional, and international law and mechanisms, and engaging with governments and civil society. She has led mega-research projects and fact-finding missions, undertaken strategic litigation, built the capacity of civil society organizations and provided technical support to governments for legal and policy reform around the world.  Upreti was appointed to the UN Working Group on discrimination against women and girls, a Special Procedure of the Human Rights Council, in 2017. She served as Chair of the Working Group from 2021-2022, and is currently a Member of this Expert Group. Upreti has held various leadership positions including as Senior Director of Program and Advocacy at the Center for Women's Global Leadership, Rutgers University (2017-2022,) where she conceptualized and led multi-year initiatives of the original Global 16 Days Campaign to End Gender-Based Violence. From 2000-2016, she led and helped establish the Asia program at the Center for Reproductive Rights where, among other notable achievements, she spearheaded the creation of the South Asia Reproductive Justice and Accountability Initiative (SARJAI). Upreti has been notably affiliated with the University of Toronto Law Faculty's International Reproductive and Sexual Health Law Program, as a Fellow since 2017, and as Strategic Advisor to the Women's Human Rights Education Institute (WHRI), since 2020. Upreti holds law degrees from India and the United States and her professional experience and activism span the globe. She frequently lectures on women's rights and is widely published. She has been interviewed on local and global news channels for her work on women's rights, including by CNN, the BBC and Al Jazeera, and she been featured and quoted in a variety of print media sources. 
This event will be closed captioned. Individuals with disabilities are encouraged to attend all University of Iowa-sponsored events. If you are a person with a disability who requires a reasonable accommodation in order to participate in this program, please contact UICHR in advance at uichr@uiowa.edu