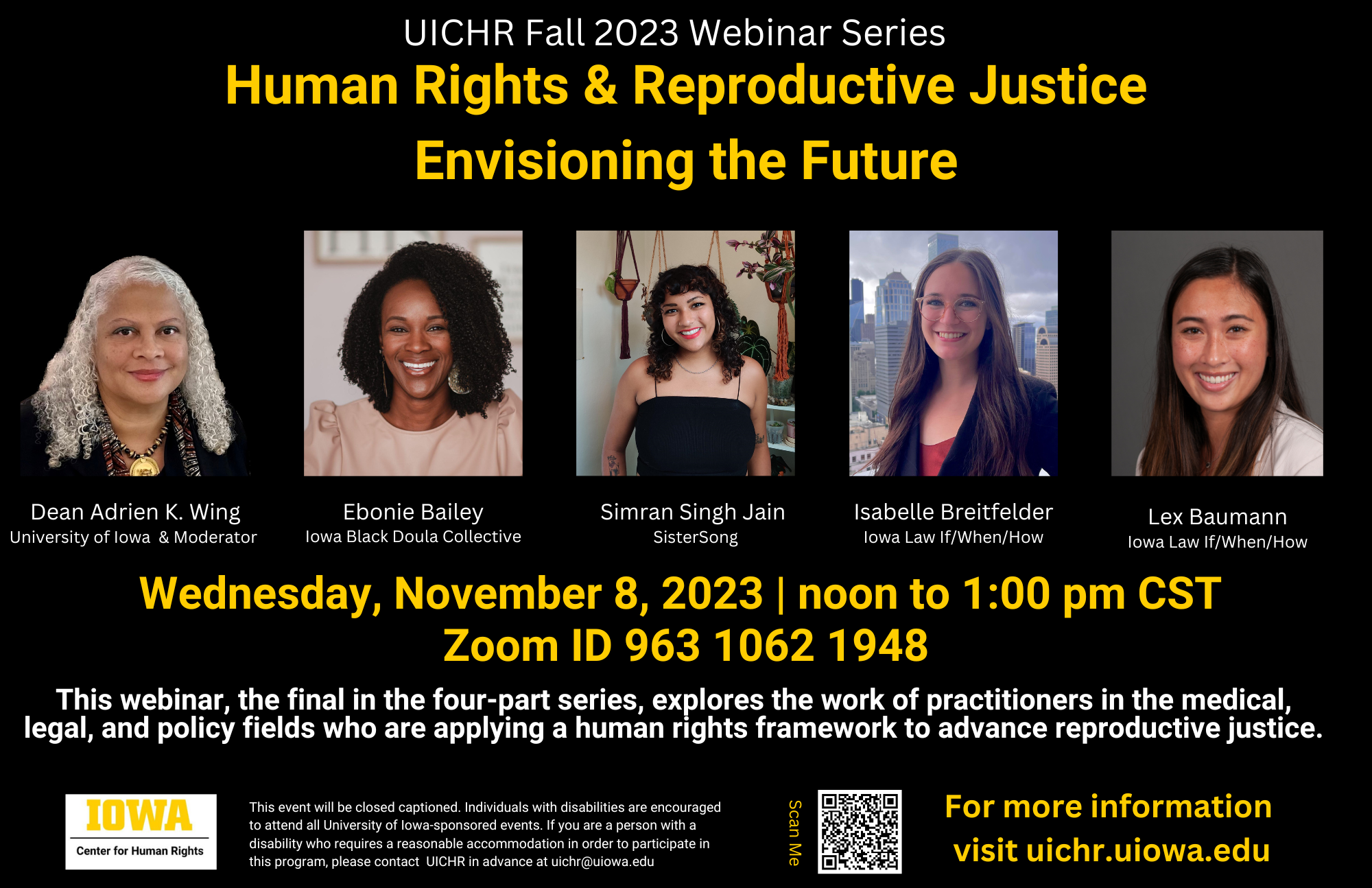 Wednesday, November 8, 2023
noon to 1:00 pm CST
Zoom ID 963 1062 1948
This webinar, the final in the four-part series, explores the work of practitioners in the medical, legal, and policy fields who are applying a human rights framework to advance reproductive justice. This event will include:
Ebonie Bailey is a passionate advocate for Black maternal health and the well-being of birthing mothers and their families. As the proud owner of Naturally Ebonie Doula Services and the co-founder and chair of the Iowa Black Doula Collective, she has been at the forefront of providing compassionate and affordable healthcare solutions in Iowa since attending her first health care legislative forum in 2011.
With a deep understanding of the challenges faced by marginalized and vulnerable communities, Ebonie is dedicated to addressing the maternal health crisis in the United States, where BIPOC individuals are most often at risk of life-threatening pregnancy-related complications. Her tireless efforts focus on advocating for and supporting these families through her comprehensive doula services, virtual pregnancy support, and post-partum care.
Currently pursuing certification as a Lactation Counselor, Ebonie is committed to expanding her expertise and ensuring that new mothers receive essential lactation support. Furthermore, she actively mentors aspiring doulas, fostering a network of skilled professionals who contribute to the impactful work carried out by the Iowa Black Doula Collective.
Ebonie holds an educational background as an Alumna of both the University of Arkansas Pine Bluff and St. Ambrose University. As a devoted mother herself, she brings a unique and empathetic perspective to her work, understanding the needs and challenges faced by growing families.
Ebonie finds strength and inspiration in her loving family, comprising her supportive husband and five wonderful children. With her unwavering commitment and dedication, Ebonie continues to make a profound difference in the lives of countless families, empowering them to navigate the journey of childbirth and motherhood with confidence and care.
https://www.iowablackdoulas.com | FaceBook | Instagram
Simran Singh Jain is a queer Desi activist and poet from Kennett Square, Pennsylvania, currently living in Durham, NC where she relocated in 2021. She graduated from Tulane University in New Orleans where she studied Political Science and Gender and Sexuality Studies and served as a sexual violence response team member and consent educator. Before joining Team SisterSong, she worked at the Center for Community Alternatives, an anti-incarceration non-profit based in Syracuse, NY, where she provided violence prevention education and after school programming for youth in the city. Today, Simran is the National Membership Coordinator with SisterSong and aims to expand and grow our Reproductive Justice community and network. Her journey with SisterSong began in 2019 as an intern through the Reproductive Rights Activist Service Corps and she is a practicing abortion doula. Simran believes deeply in the power of art to grow movements and uses poetry as a tool for her activism. Her work has been published by The Academy of American Poets', BigCityLit, Nine Mile Literary Magazine, The South Asian Sexual and Mental Health Alliance, and more.
Isabelle Breitfelder is a third-year law student at the University of Iowa College of Law and President of the Iowa Law If/When/How: Lawyering for Reproductive Justice student organization. She graduated from the University of Iowa in 2020 with degrees in Global Health Studies, Ethics & Public Policy, and Spanish. Isabelle is from Manchester, IA, and plans to work in public defense after her law school graduation this May. If/When/How is a national organization focused on achieving reproductive freedom for all. During Isabelle's involvement in the Iowa Law If/When/How chapter, organization activities have included fundraising for the Emma Goldman Clinic, writing letters to Iowa politicians, hosting educational events for students to learn about abortion legislation, and hosting social events for students to discuss experiences and advocacy.
Alexandra (Lex) Baumann is a second year law student participating in the dual degree program to receive a J.D. along with a M.P.A. (Masters in Public Affairs with a focus on Policy). Originally from St. Charles, Illinois, Lex attended Grinnell College prior to starting law school. She is interested in practicing education law, particularly focusing on equitable education and civil rights, after graduation. At Iowa Law, Lex serves as the event coordinator on the Executive Board for Lawyering for Reproductive Justice. Currently, she is working with other organizations at both the Law School and Medical School to plan a Drag Show Brunch to raise money for gender affirming care. Outside of law school, she volunteers with the Big Brothers Big Sisters (BBBS) program at Kirkwood Elementary School and attends Barre3, which is my favorite place to work out due to its focus on body positivity and individualistic centered goals.