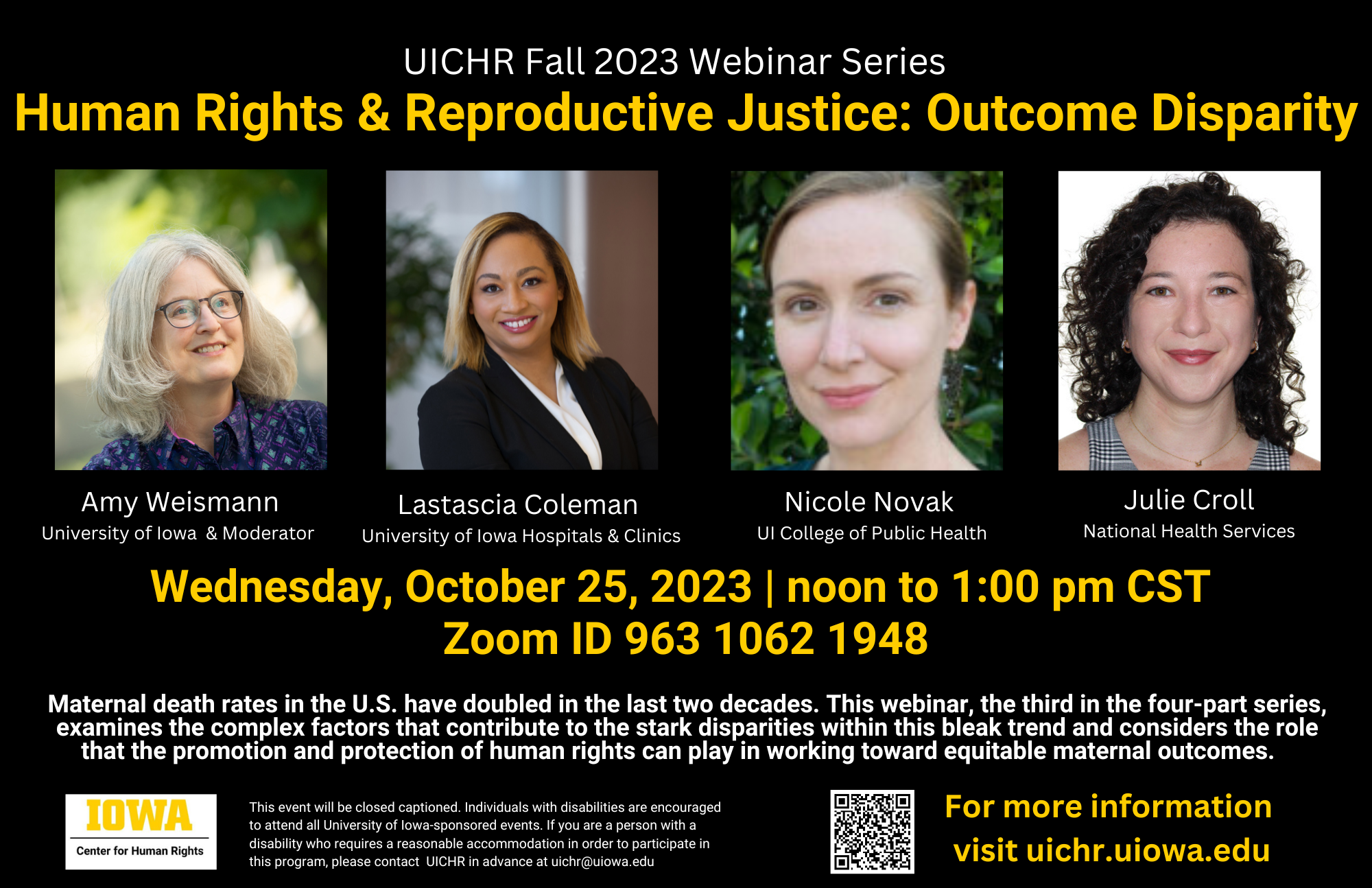 Wednesday, October 25, 2023
noon to 1:00 pm CST
Zoom ID 963 1062 1948
Maternal death rates in the U.S. have doubled in the last two decades. This webinar, the third in the four-part series, examines the complex factors that contribute to the stark disparities within this bleak trend and considers the role that the promotion and protection of human rights can play in working toward equitable maternal outcomes. This event will include:
Amy Weismann is a Lecturer in Human Rights who teaches core courses in the Human Rights Certificate program. She assists with the management and development of the certificate program. She is an alumna of Bryn Mawr College (1993, A.B.) and the University of Iowa College of Law (2000 J.D. with Distinction). Amy served as a Law Clerk for the judges of the Seventh Judicial District of Iowa, and as a Legal Intern in the Appeals Chamber of the International Criminal Tribunal for the Former Yugoslavia in The Hague. Amy also assisted the Women's Caucus for Gender Justice with the editing of the final judgment produced by the Women's International War Crimes Tribunal 2000 for the trial of Japanese military sexual slavery.
Lastascia Coleman is a Clinical Assistant Professor of Obstetrics and Gynecology-Midwifery.  Coleman is a Ph.D. candidate in Health Management Policy, UI College of Public Health. She earned her Masters in Nursing and Healthcare Practice from Iowa and an MSN in Nurse-Midwifery from the University of Illinois-Chicago. Coleman applies a reproductive just framework to her work, which examines the impacts of policies on perinatal health outcomes. She studies the intersection of state and federal health policies and how they affect healthcare delivery. Coleman is currently exploring alternative payment models for perinatal care, the impacts of Medicaid expansion on maternity care delivery, and how midwifery-led care can achieve the Quintuple Aim, which focuses on improving population health, enhancing the care experience, and reducing costs. Coleman's other research interests include racial disparities in maternal morbidity and mortality.  She has published on rural health disparities, opioid pain medication use among pregnant and non-pregnant women, and pregnancy and heart disease. 
Dr. Nicole Novak is a Research Assistant Professor in the Department: Community and Behavioral Health at the UI College of Public Health.  She earned her Ph.D. in epidemiologic science and graduate certificate in science, technology and society from the University of Michigan—Ann Arbor.  Novak uses epidemiologic and community-engaged research methods to examine historical, structural and policy influences on the health of immigrants, Latinos and rural residents. Novak has published widely on a variety of subjects, including structural and social determinants of rural health inequities, impacts of immigration policy and enforcement on community health and wellbeing, community-driven initiatives to promote wellbeing and health equity, and reproductive justice and historical impacts of U.S. state eugenic sterilization laws, 1909-1979.
Dr. Julie Croll, MB BCh BAO (Hons), MPH (she/her) is a foundation doctor for the National Health Service (NHS) Scotland in Edinburgh. After receiving her Bachelor of Arts in Anthropology from McGill University in 2013, she worked as a medical scribe at Brown University Emergency Medicine for several years while earning a Master of Public Health at Brown University in 2018. She obtained her medical degree at the Royal College of Surgeons in Ireland (RCSI) in 2022, where was president of the RCSI Pride Society, cultivating educational events focusing on empowering medical professionals on queer health topics in Dublin. During that time, she served on both the RCSI Equality, Diversity, and Inclusion Committee and the Ending Sexual Violence Forum to increase sexual health and safety initiatives for LGBTQ+ students and staff. In her last year of medical school she worked with co-authors Drs. Laura Sanapo and Ghada Bourjeily of Brown University to research health outcomes in queer pregnant patients. Finding a dearth of evidence in the literature, they wrote a paper to galvanize and identify future directions for gender-inclusive research and clinical care. "LGBTQ+ individuals and pregnancy outcomes: A Commentary," was published in the British Journal of Obstetrics and Gynaecology in September 2022. Currently, Dr. Croll is a physician training in internal medicine with the NHS Scotland via the University of Edinburgh, and a member of the NHS LGBT Staff network.
This event will be closed captioned. Individuals with disabilities are encouraged to attend all University of Iowa-sponsored events. If you are a person with a disability who requires a reasonable accommodation in order to participate in this program, please contact UICHR in advance at uichr@uiowa.edu