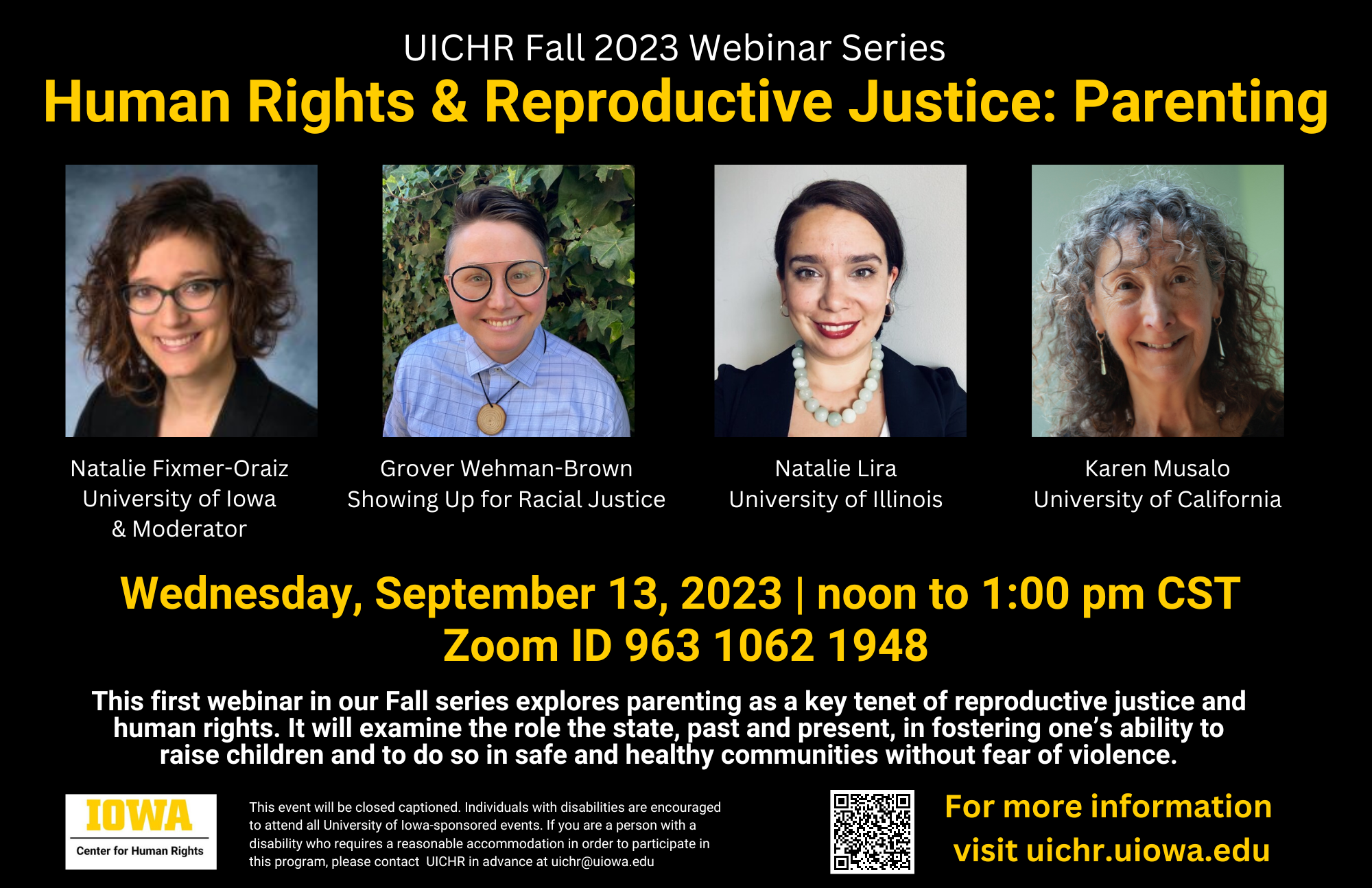 Wednesday, September 13, 2023
noon to 1:00 pm CST
Zoom ID 963 1062 1948
This first webinar in our Fall series explores parenting as a key tenet of reproductive justice and human rights. It will examine the role the state, past and present, in fostering one's ability to raise children and to do so in safe and healthy communities without fear of violence. This event will include:
Natalie Fixmer-Oraiz, Moderator and University of Iowa, F. Wendell Miller Assoc. Professor Communication Studies; Gender, Women's & Sexuality Studies
Natalie Fixmer-Oraiz is F. Wendell Miller Associate Professor of Communication Studies and Gender, Women's and Sexuality Studies at the University of Iowa. She is the author of Homeland Maternity: US Security Culture and the New Reproductive Regime (University of Illinois Press, 2019), an award-winning book that examines the policing of pregnancy and parenting in the United States from a communication perspective. She has published numerous essays on feminism, rhetoric, and reproductive justice and is currently at work on a collaborative book project that grapples with the politics and possibilities of queer family formation. Her scholarship and teaching emerge from a combination of academic training alongside twenty years of experience in reproductive politics as a community organizer and advocate in a number of local and regional contexts. She is also a co-director of the UI Obermann Working Group on Maternal Health and Reproductive Justice with Professor Lina-Maria Murillo.
Grover Wehman-Brown, Deputy Director of Communications
Grover is the Deputy Director of Communications at Showing Up for Racial Justice (SURJ). (Pronouns: they/she) Before joining SURJ, Grover was Communications Manager with East Bay Housing Organizations. They are the creator and host of the 16-episode podcast, Masculine Birth Ritual, sharing stories and conversations with masculine-of-center queer and trans birthing people and people who support them. She earned a PhD in Communications from the University of North Carolina based on research about how homelessness is able to continue in the United States after exiting homelessness. For more two decades, Grover has been part of formations organizing for queer and trans liberation and racial justice in the U.S. When not working, she writes, grows food, and joyfully attends band concerts at their kids' local public school.
Natalie Lira, University of Illinois Assoc. Professor, Department of Latina/Latino Studies; Gender and Women's Studies
Natalie Lira is an interdisciplinary scholar and Associate Professor of in the Departments of Latina/Latino Studies and Gender and Women's Studies at the University of Illinois at Urbana Champaign. Dr. Lira earned her Ph.D. in American Culture from the University of Michigan. Her research interests include the politics of reproduction, histories of medicine, and the ways that struggles for racial and reproductive justice intersect. In her new book, Laboratory of Deficiency: Sterilization and Confinement in California, 1910-1950s (University of California Press, 2021), Dr. Lira combines insights and analytical frameworks from Latinx Studies, Disability Studies, and feminist scholarship on reproduction to examine Mexican-origin people's experiences of eugenic sterilization and institutionalization in California during the first half of the 20th century. Dr. Lira is also co-director of the Sterilization and Social Justice Lab (SSJL), an interdisciplinary research collaborative that studies the history of eugenic sterilization in the United States. Funded in part by a grant from the National Institutes of Health, the SSJL team uses mixed methods from the social sciences, humanities, and public health to explore patterns and experiences of eugenic sterilization in California, Iowa, North Carolina, Michigan, and Utah. You can find her work in Aztlán: A Journal of Chicano Studies, the American Journal of Public Health, and Latino Studies.  
Karen Musalo, University of California, College of Law, Professor & Director, Center for Gender & Refugee Services
Karen Musalo is Professor of Law at the UC Law, San Francisco. She is lead co-author of Refugee Law and Policy: An International and Comparative Approach (5th edition). She has written extensively on refugee law issues, and contributed to the evolving jurisprudence of asylum law not only through her scholarship, but through her litigation of landmark cases. She was lead attorney in Matter of Kasinga (fear of female genital mutilation as a basis for asylum) amicus in Matter of A-R-C-G-, the first precedent decision affirming the viability of domestic violence asylum claims, and co-counsel in Matter of A-B-, in which the principle of protection in domestic violence claims was challenged under the Trump administration.
This event will be closed captioned. Individuals with disabilities are encouraged to attend all University of Iowa-sponsored events. If you are a person with a disability who requires a reasonable accommodation in order to participate in this program, please contact UICHR in advance at uichr@uiowa.edu