This webinar occurred on October 6, noon to 1pm (CT). Recording available here.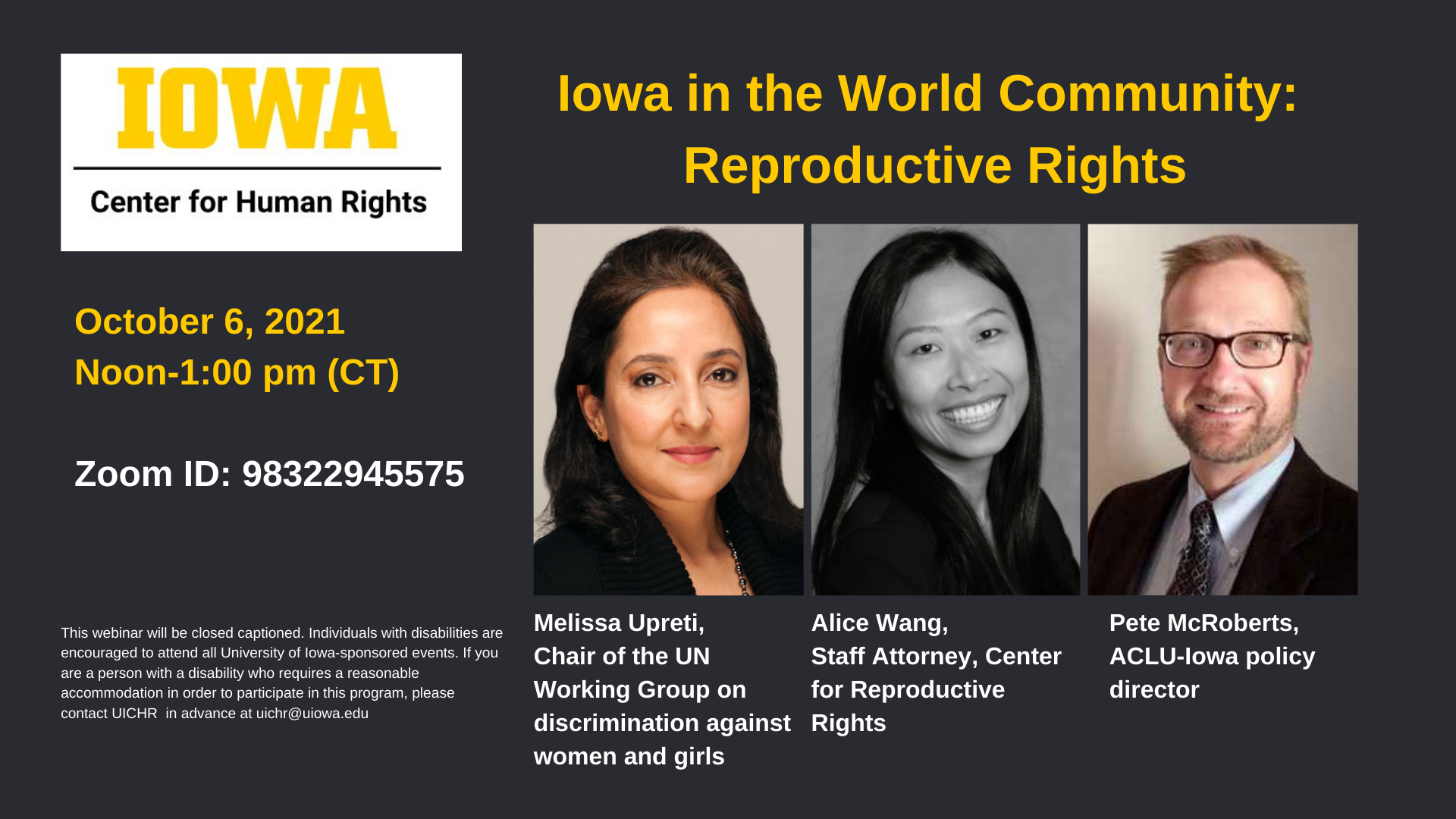 The fall 2021 series Iowa in the World Community seeks to expand the campus and broader public understanding about international human rights standards related to pressing challenges we face in the United States, the State of Iowa, at the university, and/or within our local community.
This webinar will explore reproductive health as an international human right as well as  examine the current status of protection in the United States and State of Iowa. 
Panelists:
Melissa Upreti, Chair of the UN Working Group on discrimination against women and girls
Alice Wang, Staff Attorney, Center for Reproductive Rights
Pete McRoberts, ACLU-Iowa policy director
Panelists Biographies:
Melissa Upreti is a human rights lawyer and feminist activist who has spent over two decades advocating for women's rights, using national, regional, and international law and mechanisms, and engaging with governments to ensure accountability for violations of human rights. She has led fact-finding missions, undertaken strategic litigation, built the capacity of civil society organizations, provided technical support for law reform, lectured on women's rights, and is widely published. Ms. Upreti was appointed to the UN Working Group on discrimination against women and girls, a Special Procedure of the Human Rights Council, in 2017, and is currently Chair-Rapporteur. She is a Fellow in the University of Toronto Law Faculty's International Reproductive and Sexual Health Law Program and Senior Director of Program at the Center for Women's Global Leadership at Rutgers, The State University of New Jersey. 
Alice Wang (she/her) is a Staff Attorney at the Center for Reproductive Rights. Prior to joining the Center in 2019, she represented indigent parents charged with neglect and abuse as a family defense attorney at Brooklyn Defender Services. Alice received her J.D. in 2017 from Columbia Law School, where she participated in the Immigrants' Rights Clinic and served as an editor for the Columbia Journal of Gender and Law. While in law school, she interned at Neufeld Scheck & Brustin, LLP, the Legal Aid Society, the Center, and the ACLU.
Pete McRoberts is the policy director for the American Civil Liberties Union of Iowa. He is an attorney, and has worked in state and federal public policy for more than twenty years. While in private practice, he represented the ACLU of Iowa for five years, joining the team full-time in 2020. 
Resources from the webinar: