This webinar occurred on September 22, noon to 1pm (CT). A recording is available here.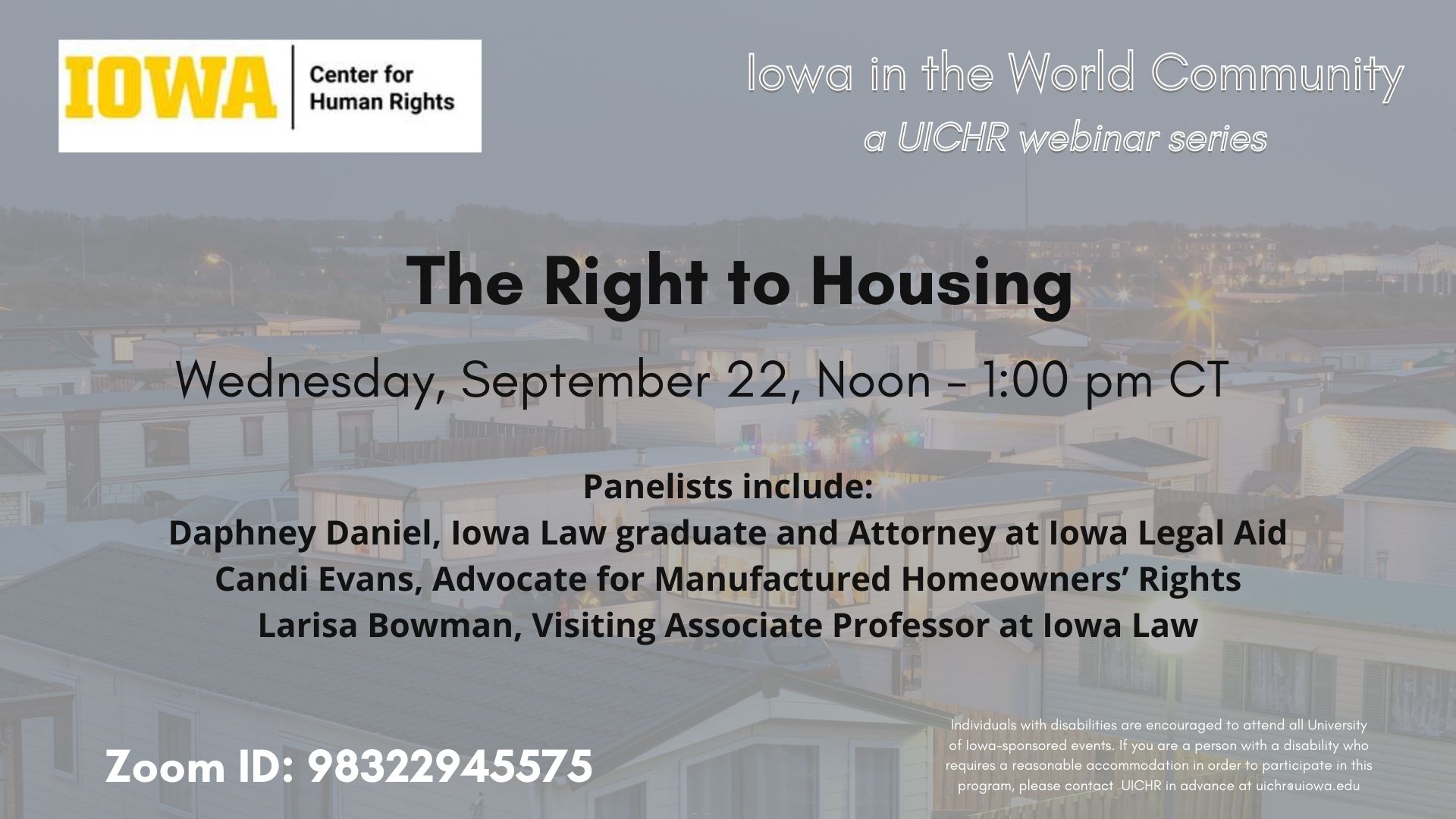 The international human rights system recognizes adequate housing as a fundamental human right. This panel will examine the fulfillment of this right in our state and explore barriers to housing access and security.
Panelists include:
Daphney Daniel, an Iowa Law graduate and an attorney at Iowa Legal Aid
Candi Evans, an Advocate for Manufactured Homeowners' Rights
Larisa Bowman, a visiting associate professor at Iowa Law with experience in housing litigation
Panelists biographies:
Originally from Providence, Rhode Island, Daphney Daniel graduated from the University of Iowa College of Law in 2017 and joined Iowa Legal Aid in 2018. During Daphney's time at Iowa Legal Aid she has worked on several projects including a HUD grant to help clients with Covid-19-related fair housing issues. Daphney's curiosity about housing issues was sparked in high school when she realized she was living the real-life consequences of redlining and steering. Daphney is presently a commissioner on Iowa City's Truth & Reconciliation Commission and the chair of the TRC's housing subcommittee. Outside of her work as a lawyer and commissioner, Daphney is the proud pet parent to a little menagerie of furry, scaly, and feathered critters.
Candi Evans is a courageous, compassionate leader motivated by the love for her neighbors and a strong desire for justice. As co-founder of the Golfview Residents' Association in her North Liberty neighborhood and leader of the newly formed Iowa Manufactured Home Resident's Network, she is a prominent public voice for affordable housing and fair treatment for Iowa manufactured homeowners. Faced with steep lot rent increases and harsh rule changes when new out-of-state owners took over her mobile home park in 2019, Candi organized her neighborhood, researched state laws, and reached out to community leaders. She has since gone on to become a powerful media spokeswoman and coordinator of statewide legislative advocacy.
Larisa Bowman is a Visiting Associate Professor at the University of Iowa College of Law.  Previously, Larisa helped direct the housing practice of a legal services organization in New York City, focusing on eviction defense for low-income tenants as well as affirmative litigation to combat landlord abuse and harassment.  Prior to that, she supervised law students in their clinical work at the Harvard Legal Aid Bureau and the Stanford Community Law Clinic.  Larisa began her career in housing litigation as a Skadden Fellow after clerking for the Honorable William G. Young of the U.S. District Court for Massachusetts and the late Chief Justice Ralph D. Gants of the Massachusetts Supreme Judicial Court.  She holds a JD from Stanford Law School and a BA from Brown University.
Webinar Resources:
UN Fact Sheet: https://www.ohchr.org/documents/publications/fs21_rev_1_housing_en.pdf
Candi Evans op-ed April 5, 2021: https://www.thegazette.com/guest-columnists/iowa-manufactured-home-residents-are-still-fighting-for-our-rights/
Iowa Manufactured Home Residents' Network website and Facebook page
Nicholas Johnson op-ed August 6, 2021: https://fromdc2iowa.blogspot.com/2021/08/protecting-animals-while-evicting-humans.html 
NY Times Article: The Tenants Who Evicted Their Landlord
Des Moines Register: Gov. Kim Reynolds signs law to let Iowa landlords refuse Section 8 vouchers
Greater Greater Washington: The Faircloth Amendment, explained
For UI Law Students: