This webinar occurred on November 17 from noon to 1pm (CT). Recording is available here.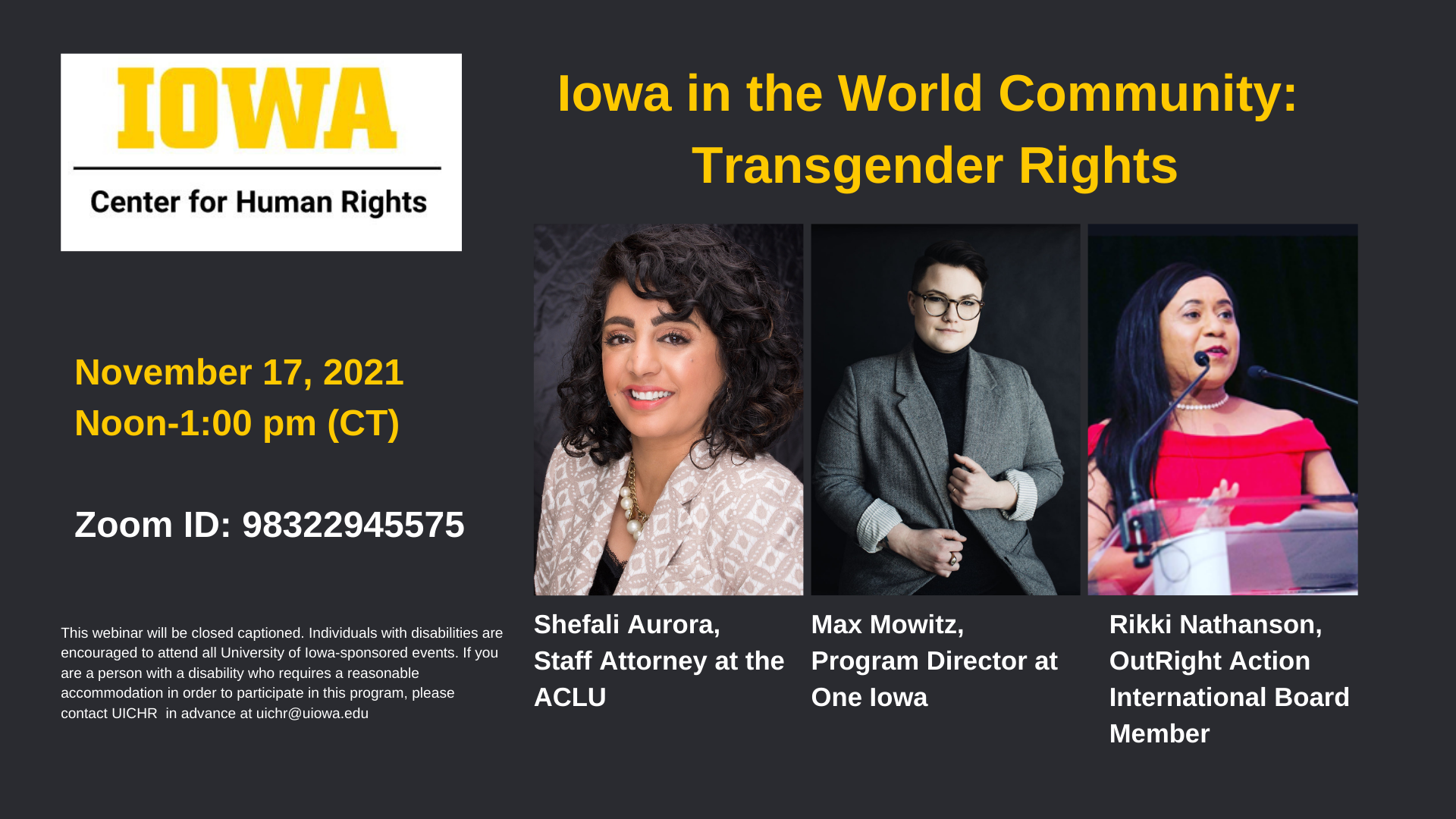 The fall 2021 series Iowa in the World Community seeks to expand the campus and broader public understanding about international human rights standards related to pressing challenges we face in the United States, the State of Iowa, at the university, and/or within our local community.
This webinar will explore Transgender Rights as an international human right as well as examine the current status of protection in the United States and State of Iowa. 
Panelists Biographies:
Rikki Nathanson is a fierce activist for the rights of trans and gender diverse persons, globally. Originally from Southern Africa, she formed the first trans specific and trans led organization in Zimbabwe in 2015, after being unlawfully arrested for using a female restroom at a local hotel. She then was instrumental in the formation of the Southern Africa Trans Forum.
Upon acquittal for her arrest in 2014, she took on the State of Zimbabwe with a civil suit. This act of bravery has proven to be risky to her life, and has seen her fleeing her home country of Zimbabwe and resettling in the United States of America. In November 2019, judgement was finally handed down in her civil suit against Zimbabwe, and she made history with the ground breaking judgement that has positively changed the legal landscape for trans and gender diverse persons not only in Zimbabwe, but further afield.
She continues her bid to improve the plight of LGBTQ persons globally in her work with OutRight Action International, GATE (Global Action for Trans Equality), IRGT (International Reference Group of Trans Women), SHE (Social Health Empowerment), South Africa and Trans Bantu Association, Zambia. Professionally, she holds a qualification with the Institute of Chartered Secretaries & Administrators of Zimbabwe.
Rikki recently won a major victory for transgender individuals in Zimbabwae: Trans Activist Rikki Nathanson Wins Landmark Case Against the Zimbabwean Government | OutRight Action International (outrightinternational.org)
Shefali Aurora is a staff attorney at the ACLU of Iowa practicing in civil rights impact litigation. She was born in India, raised in Egypt, and moved to Iowa with her family in middle school. Before receiving her J.D. from the University of Iowa College Law, Shefali received her BA in Political Science and Global Development Studies from Grinnell College. At Iowa Law, she was an editor for the Journal of Transnational Law and Contemporary Problems and received the Boyd Public Service Award for her volunteer work in law school. After graduating from law school, she knew she wanted to use her law degree to serve the community. Shefali worked as an immigration attorney in Des Moines before joining the ACLU of Iowa. Shefali and her colleagues bring lawsuits on behalf of the client with the intended effect of changing laws and making societal change. While at the ACLU of Iowa, Shefali has worked on a range of issues such as LGBTQ rights, racial justice, and reproductive rights. She enjoys that her work exposes her to a wide variety of legal issues and allows her to help not only the client but the larger community. 
Max Mowitz is Program Director at One Iowa, Iowa's statewide LGBTQ advocacy organization, overseeing organizational programming, direct service, and community education via LGBTQ training. Max has been active in LGBTQ advocacy work since coming out in high school, focusing on comprehensive LGBTQ education to the broader community as a component of queer liberation. Max specializes in topics related to the trans and nonbinary community, LGBTQ birth work, LGBTQ-inclusive healthcare, and mental healthcare and is a certified Community Health Worker. Max previously served as the Volunteer and Office Coordinator at the Young Women's Resource Center after earning their undergraduate degree in Ethnomusicology and African American Studies. Max is part of the Planned Parenthood Speakers Bureau and serves as a board member for the Iowa Abortion Access Fund, Iowa Trans Mutual Aid Fund, and Planned Parenthood. Max is pursuing their birth and postpartum doula certification and is practicing as a gender-affirming doula, serving Trans and Nonbinary individuals in their gender-affirming experiences as a support system as they navigate healthcare systems, social gender-affirmation, and mental health. Max is passionate about justice and the liberation of all marginalized peoples. 
Websites and Resources: