A Decent Home: Film Screening & Discussion (fall 2022)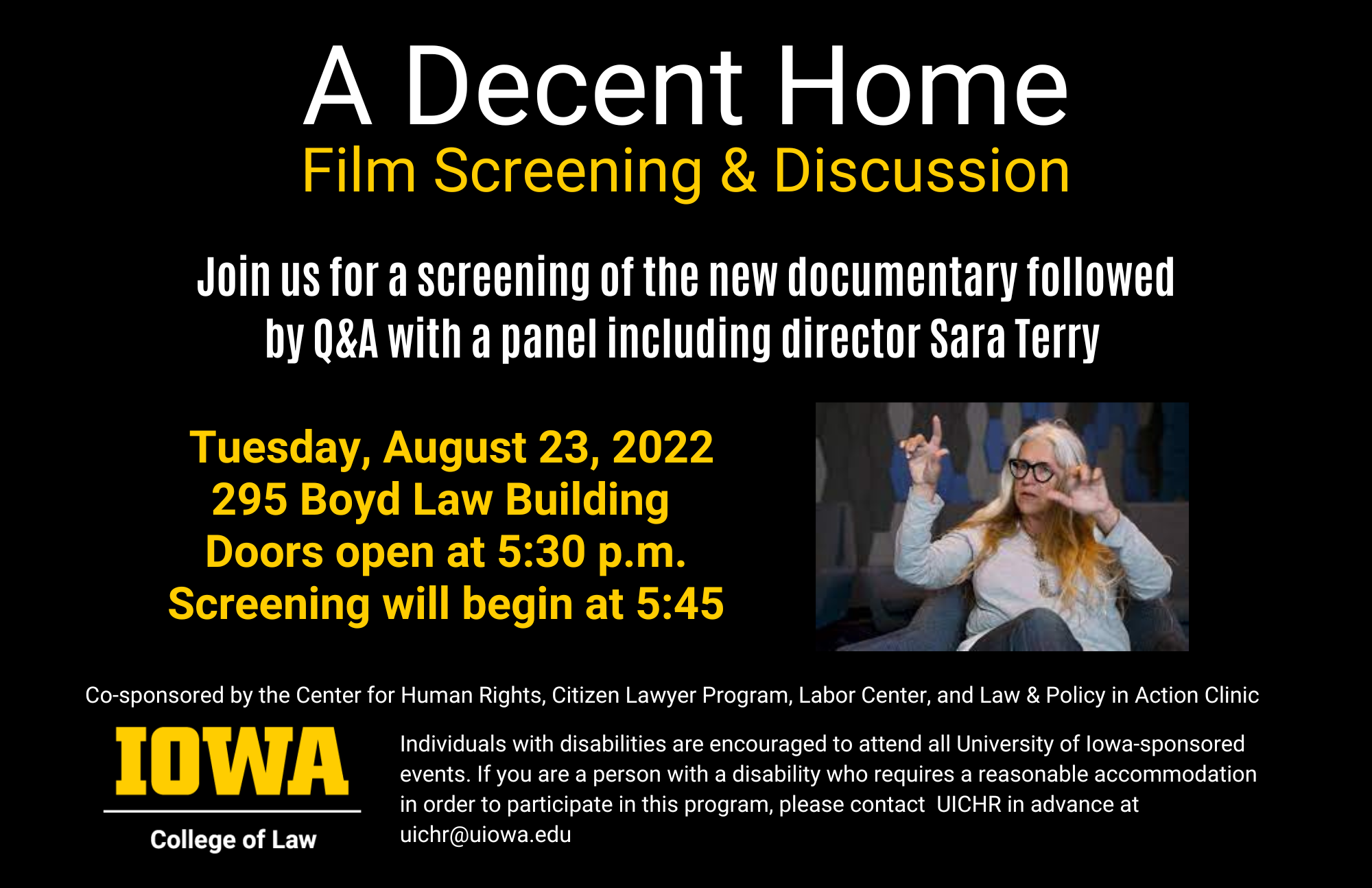 Join us for a screening of the new documentary followed by Q&A moderated by Professor Larisa Bowman with a panel including director Sara Terry, activist Candi Evans, and law student practitioner Amber Crow.
Tuesday, August 23, 2022
Doors open at 5:30 p.m.
Screening will begin at 5:45 p.m.
Limited free parking will be available in Lot 34, immediately south of Boyd Law Building. Additional paid parking is available in nearby UI public parking lots.
This event is sponsored by the University of Iowa Center for Human Rights, Citizen Lawyer Program, Labor Center, and Law & Policy in Action Clinic.
Individuals with disabilities are encouraged to attend all University of Iowa-sponsored events. If you are a person with a disability who requires a reasonable accommodation in order to participate in this program, please contact UICHR in advance at uichr@uiowa.edu.
--
Larisa Bowman is a Visiting Associate Professor at the University of Iowa College of Law.  Previously, Larisa helped direct the housing practice of a legal services organization in New York City, focusing on eviction defense for low-income tenants as well as affirmative litigation to combat landlord abuse and harassment.  Prior to that, she supervised law students in their clinical work at the Harvard Legal Aid Bureau and the Stanford Community Law Clinic.  Larisa began her career in housing litigation as a Skadden Fellow after clerking for the Honorable William G. Young of the U.S. District Court for Massachusetts and the late Chief Justice Ralph D. Gants of the Massachusetts Supreme Judicial Court.  She holds a JD from Stanford Law School and a BA from Brown University.
Sara Terry (director/producer/cinematographer) is an award-winning filmmaker and photographer. Her first film, Fambul Tok, the story of an unprecedented grass-roots forgiveness program in Sierra Leone, premiered at SXSW in 2011. It played at more than a hundred festivals around the world and won several prizes, including the Human Spirit Award at Nashville Film Festival. Fambul Tok was supported by Sundance and Chicken & Egg, and was included on Paste magazine's list of 100 best documentaries of all time. FOLK, her second documentary, enjoyed a successful film and music festival run, including DOC NYC, Nashville Film Festival and Bonnaroo Music Festival. Sara is a member of the International Cinematographers Guild, and has worked as a story consultant and consulting producer on more than a dozen documentaries, including the Sundance Jury Prize-winning One Child Nation (2019) directed by Nanfu Wang and Jialing Zhang, Hao Wu's People's Republic of Desire, Kimberly Reed's Dark Money, Michael Collins' and Marty Syjuco's Almost Sunrise, and Johanna Demetrakas' FEMINISTS: What Were They Thinking. Sara is a Guggenheim Fellow in Photography and a member of VII photo agency. She was also a 2018 Logan Fellow at the Carey Institute, where she worked on A Decent Home, and she is a 2020 Film Independent Fellow.
Candi Evans is a courageous, compassionate leader motivated by the love for her neighbors and a strong desire for justice. As co-founder of the Golfview Residents' Association in her North Liberty neighborhood and leader of the newly formed Iowa Manufactured Home Resident's Network, she is a prominent public voice for affordable housing and fair treatment for Iowa manufactured homeowners. Faced with steep lot rent increases and harsh rule changes when new out-of-state owners took over her mobile home park in 2019, Candi organized her neighborhood, researched state laws, and reached out to community leaders. She has since gone on to become a powerful media spokeswoman and coordinator of statewide legislative advocacy.
​​​Amber Crow is from Truro, Iowa and graduated from the University of Iowa in 2019. Currently, Crow is a 3L at the University of Iowa College of Law. Last spring 2022, Crow took part of the Law and Policy in Action Legal Clinic where she worked closely on efforts to protect manufactured home park tenants from predatory practices and legislation. She was able to connect with tenants across the state and testify at the Senate Ways and Means Subcommittee as well as advocate with other legislators. Crow worked closely with other students and the guidance of Professor Leonard Sandler to strategize ways to compromise with legislators but were unsuccessful as legislators were uninterested in compromising and advocating for tenants.