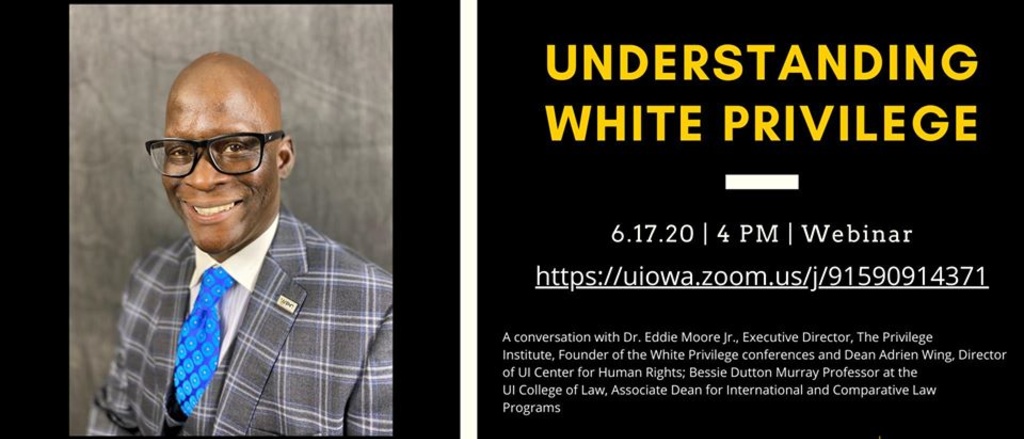 Racial Equity & Human Rights series
This webinar series on Racial Equity & Human Rights has brought together accomplished speakers from a variety of fields to discuss the many manifestations and implications of racism in our society. Recordings of all past events are available on each event page.
Resources listed on individual webinar pages were provided by panelists and compiled at the time of the webinar. These are typically not updated or maintained following the webinar. 
Racial Equity Resources
Anti-racism is more than simply not being racist. This guide is intended to provide general information about anti-oppression, racism, privilege, and inclusion, as well as information and resources for the social justice issues key to current dialogues within the University of Iowa community and beyond. This guide is by no means an exhaustive list of anti-racism initiatives nor does it capture all of the many facets of the larger conversations about the issues listed here. This guide serves as an introduction to these issues and as a starting place for finding information from a variety of sources. 
Created by UI Libraries, June 17, 2020. 
Have you ever made a successful change in your life? Perhaps you wanted to exercise more, eat less, or change jobs? Think about the time and attention you dedicated to the process. A lot, right? Change is hard. Creating effective social justice habits, particularly those dealing with issues of power, privilege, supremacy and leadership is like any lifestyle change. Setting our intentions and adjusting what we spend our time doing is essential. It's all about building new habits. Sometimes the hardest part is just getting started. The good news is, there's an abundance of resources just waiting to empower you to be a more effective player in the quest for equity and justice.
All rights reserved, 2014 America & Moore, LLC.