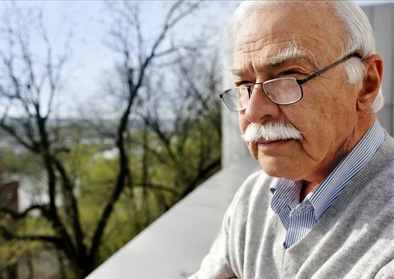 Burns H. Weston, Bessie Dutton Murray Distinguished Professor of Law Emeritus at the University of Iowa and founder and senior scholar of the University of Iowa Center for Human Rights (UICHR) died on October 28, 2015, just a few days before his 82nd birthday.  After surviving numerous intense challenges to his health, Weston's death was unexpected and sudden.  To the end, he was excited about upcoming birthday celebrations with his wife and visits to his children over Thanksgiving; he was steadily writing and developing new projects.
Weston was fond of quoting EB White, who said:  "If the world were merely seductive, that would be easy.  If it were merely challenging, that would be no problem.  But I arise in the morning torn between a desire to improve the world and a desire to enjoy the world.  This makes it hard to plan my day.
In his own life, Weston also felt the pull of these choices every day – including in his first pivotal career decision to discontinue a promising career as a pianist or conductor to focus on the then relatively new field of international law.
As loved ones, friends, and colleagues from around the world witnessed, Weston had a limitless capacity to enjoy so much about this world – and an equally tenacious drive to improve it.
After receiving his J.D. from Yale Law School, Weston began his legal career in 1961 with the distinguished New York City law firm of Paul, Weiss, Rifkand, Wharton & Garrison.  Wanting to teach, he subsequently joined The University of Iowa College of Law, where he remained for the rest of his professional life.  He devoted himself to the cause of international law, human rights, and environmental sustainability.
As his close friend and colleague, Richard Falk said, Weston was one of "the most talented and dedicated international law scholar[s] of his generation."  Weston authored over 28 books, innumerable articles, and was on the editorial board of over 10 professional journals, including the American Journal of International Law.  Among others, he published in the Harvard International Law Journal, Human Rights Quarterly, and the Journal of Human Rights and the Environment.
Over the years, Weston participated in fact finding missions, lectured, wrote, and taught about some of the most pressing issues facing our planet: nuclear weapons and disarmament, child labor, human rights, and in the latter part of his life, environmental survival.  And in doing this work, Weston was often bold and inventive.  As close collaborator David Bollier wrote, he was an "irresistible disruption" – a force of such optimism, conviction, and potential – that he emboldened and challenged those around him.
At the University of Iowa, Weston inspired generations of law students and "put Iowa Law on the map" of international law and international human rights. He developed a path-breaking, problem-oriented approach to teaching international law and wrote the award-winning textbook, International Law and World Order: A Problem-Oriented Coursebook.   Always broad and expansive in his thinking, Weston also founded and directed an interdisciplinary, university-wide Center for World Order Studies (later known as the University's "Global Studies Program") in the 1970s.
At the same time, Weston was a dedicated teacher who paid close attention to and nurtured his students.  As one student wrote, he "will always be the internationally-renowned scholar, writer, and teacher who was also generous enough to write two e-mails to a very desperate law student when she needed it most.  And there's not a lot of those out there."
Prior to the end of the Cold War and the collapse of the Soviet Union, Weston took part in a human rights fact-finding mission to Havana Cuba in 1984, a protective conflict-mitigation mission in 1985 to accompany former political dissident (and later president) Kim Dae Jung upon his return to Korea following involuntary exile in the United States; and in 1987, a human rights fact-finding mission in the Israeli-Occupied Territories of the West Bank and Gaza.
Later, Weston (usually with his wife Dr. Marta Cullberg Weston), organized and/or participated in a number of human rights fact-finding and conflict-mitigation missions in the former Yugoslavia, Central Asia, and beyond.
In the latter part of his career, Weston founded the University of Iowa Center for Human Rights (UIHCR) and turned his scholarly attention to issues of the environment.  He immersed himself in the politics and the social dynamics of ecological crisis and climate change.  In 2012, Weston authored the International Environmental Law and World Order: A Problem-Oriented Casebook.
Subsequently, in 2013, Weston co-authored a ground-breaking book titled Green Governance: Ecological Survivial, Human Rights, and the Law of the Commons.   As co-author David Bollier has written about their collaboration on the Commons Law Project, Weston "attacked these questions with the enthusiasm of a first-year law student and the sagacity of a gray eminence. […] He wasn't afraid if they might require social and political struggle."
At the time of his death, he was in the final stages of completing the 4th edition of Human Rights in the World Community: Issues and Action, with co-author, Anna Grear.
In his non-academic, non-activist life, Weston embraced the world "with all five senses."  Above all, he was passionate about and constantly immersed in classical music:  friends and family can easily recall moments when Weston's attention drifted into a musical score; they remember often urging him to lower the volume just enough to hear themselves talk in the car or over a dinner table conversation.
He also loved art, taking drives and going to movies.  He had a strong sense of aesthetics and a gifted ability to create beautiful spaces. In no place were Weston's senses more alive or more soothed then in his beloved Adirondack Mountains.  Until the end, Weston was a devoted spouse, father, and grandfather: he was consistently and steadily available, curious about and eager to support and connect with his children and grandchildren.
Weston is survived by his wife, Marta Cullberg-Weston (Sweden) and his two children, Timothy Bergmann Weston (Boulder) and Rebecca Burns Weston (Montana), four grandchildren (Leah and Emma Yonemoto-Weston, Elijah and Isabella Weston-Capulong) and three stepchildren, Malin Cullberg, Johannes Cullberg, and Martin Cullberg and five step grand-children John Birger Wedinger, Olivia Lampenius Cullberg, Sima Wiernik Cullberg, Joar Wiernik Cullberg, and Cecilia Lampenius Cullberg.
A memorial service in honor of Weston will be held at the University of Iowa College of Law on December 5, 2015, from 2:00 p.m. – 5:00 p.m.  Donations in Weston's honor will be accepted at the Iowa Law School Foundation for the benefit of the University of Iowa Center for Human Rights, 130 Byington Road, Iowa City, Iowa 52242.