Remembering Kenneth J. Cmiel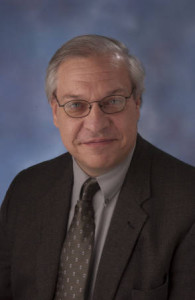 In February 2006, the University of Iowa Center for Human Rights (UICHR) mourned the loss of its director, Ken Cmiel. Ken died suddenly from an undiagnosed brain tumor, and his intellectual community, colleagues, friends, and family lost an inimitable man and scholar.
Ken Cmiel was the Director of the UICHR, as well as Professor of History and American Studies at The University of Iowa. His broad intellectual interests ranged from music history to the role of image in America to human rights.
Ken did his undergraduate work at The University of California at Berkeley where he met his wife, Anne Duggan. They moved back to his hometown, Chicago, where he received his PhD in history from the University of Chicago and attended law school for one year. He and Anne moved to Iowa City in 1987 for his first full-time teaching position and where they raised three children: Willa, Cordelia, and Noah.
Ken's ability to bridge across disciplinary boundaries, as well as reach out to the broader community, made the UICHR a truly unique and innovative entity. While at the UICHR, Ken was integral in initiating and developing programs such as the Careers for Change series, bringing professionals to talk to students about careers and issues in human rights and social justice, as well as the Burns H. Weston International Human Rights Essay Prize Competition. He played a vital role in the success of many conferences such as "The History of Sexual Violence in Conflict Zones", as well as lectures by NAACP Executive Director Julian Bond, author Keith Boykin and renowned scholar John Roth, Professor of Philosophy and Director, Center for the Study of the Holocaust, Genocide, and Human Rights at Claremont McKenna College. Ken strongly supported "One Community, One Book", as well as "Celebrate Voting Rights", which connected the Center to the greater community. He also established an internship program that provides funding and other support to students who wish to do work in the human rights field.
Perhaps his two greatest contributions were his efforts to integrate human rights into the curriculum of The University of Iowa, as well as making the UI Center for Human Rights not only a center for research, but a center that promotes student and community involvement. His desire to bring more human rights classes to the University demonstrated his dedication to this endeavor and to the intellectual development of UI students.
At the time of his death, Ken was writing a book on the origins of the Universal Declaration of Human Rights, as well as chapters on the Genocide Convention and on the contributions of Raphael Lemkin to the field of human rights. He had presented his paper "Lemkin's Vision: Genocide Versus Human Rights at Mid-Century" at the annual meeting of the American Historical Association just a month before his death. His published works on human rights include: "The Recent History of Human Rights", "Freedom of Information, Human Rights, and the Origins of Third World Solidarity", and "The Emergence of Human Rights Politics in the United States." His work on the origins of the Universal Declaration of Human Rights was, and remains, highly anticipated by the intellectual community.
Ken's joyful presence and brilliant leadership at the Center was admired by all who worked with him. Those who knew Ken are inspired by our memories of a man who embodied all the best of the human spirit.
Tributes
Bert Lockwood, Human Rights Quarterly
At a time when human rights scholarship needs historians, the tragic loss of Ken Cmiel robs us of one of the most talented thinkers in the field. Ken brought to his work the scholar's insights, melded with a passion for the cause. Exemplary of this work is his study in the Journal of American History on "The Emergence of Human Rights Politics in the United States." Tracing the evolution of the new human rights movement in the last third of the 20th Century, Ken piled insight upon insight into the rise of human rights and the organizations and individuals responsible for the successes, as well as their search for effective strategies to correct abuses and foster human rights around the world. I remember dining with Ken shortly after he had taken the helm at Iowa and recall how excited he was by the challenges ahead. We will miss the enormous contributions he had to make, but we know that he has inspired students and colleagues, and that they will take up the important challenges all of us face in the human rights community.
Amanda Trevors, Graduate Student, University of Iowa
The first time I met Ken and asked him to be my advisor, he had a big piece of spinach caught between his teeth. I thought "Great! I can definitely work with this guy." He was like that: unpretentious, a bit quirky, and unconcerned with appearances. He didn't study human rights because it was trendy or to puff up his CV. He was interested in people and felt a genuine sense of obligation to others. It's not something academics make a big deal of—being a good person—but Ken did, and it's what I respect the most about him. He hated to say "no" to anyone and the resulting jam-packed schedule meant a lot of waiting for him and conducting meetings while walking to his car. But it was worth it. I'm lucky to have received some of his characteristic practical advice ("grad school is about 60% reading books you don't want to read"), to have fostered his interest in "what the grad students are all riled up about these days" (which also had to do with his delight in juicy gossip), and experienced his out-of-the blue gestures like dropping by my office to chat or offering me a ride home. Ken could talk knowledgeably about genocide in Africa and who was cooler: Samantha on "Bewitched" or Jeannie on "I Dream of Jeannie," in the same conversation. He could make elegant conversation at fancy university functions and then eat rare cheeseburgers at The Mill later on. You have to like a guy like that.
Roland Burke, PhD Candidate, University of Melbourne
I was greatly saddened to hear of the sudden and tragic passing of Professor Cmiel. Ken had planned to visit Australia in the near future, and I was very much looking forward to meeting him. His work on human rights and the origins of Third World solidarity was of immense interest to me, and his contribution to scholarships in this area was outstanding. The loss of Ken to this area of inquiry will be felt by many across a range of academic disciplines. I am so very sorry for his family and immediate colleagues.
Ned Bertz, Assistant Professor, University of Hawaii
When I was assigned to work with Ken directing an honors seminar in 1999, I was a shy and respectful History graduate student. I began all e-mails with "Dear Professor Cmiel…" He would invariably sign off, "Ken." Erring on the side of caution, I kept my respectful salutations. Ken finally snapped, and a warmly chastising response came: "Ned, please drop this 'Professor Cmiel' crapola!" Later, I told him that this was the finest (and perhaps only) use of the word "crapola" since the 1980s. And then we laughed, hard, as we did often while working together in the years hence. Ken was inspiringly brilliant, but beautifully human. I really wished he wouldn't pad into my office without his shoes on, but I never wanted him to leave. Every day I desperately wish he hadn't, comforted only by a vow to never to let Ken go as a part of me.
Publications
Below are citations for some of Ken's scholarship on human rights history.
"The Recent History of Human Rights," American Historical Review 109:1 (February 2004): 117-135.
"Freedom of Information, Human Rights, and the Origins of Third-World Solidarity," in Truth Claims: Representation and Human Rights edited by Mark Phillip Bradley and Patrice Petro (New Brunswick, NJ: Rutgers University Press, 2002).
"The Emergence of Human Rights Politics in the United States," Journal of American History 86:3 (December 1999): 1231-1250.