Iowa's Challenges & Opportunities
This webinar will occur on Wednesday, May 11 from noon to 1pm (CT): https://uiowa.zoom.us/j/94369571045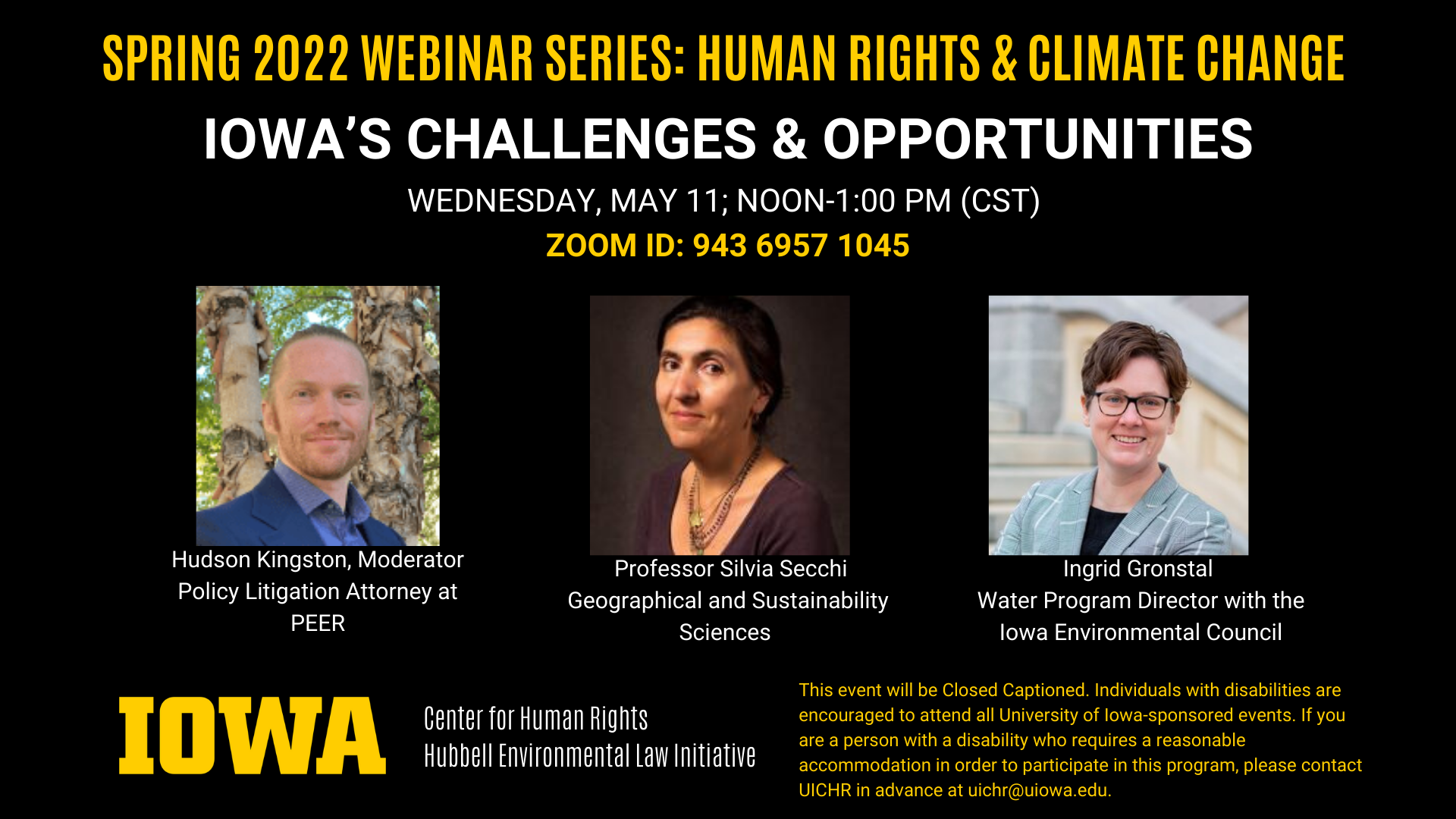 This event will be moderated by Hudson Kingston. Panelists include Silvia Secchi and Ingrid Gronstal.
Hudson Kingston, a born and raised Minnesotan, helps public employees hold governments to account for environmental harm in the Midwest and across the country. He comes to PEER after working with public health, consumer protection, and environmental organizations in both Washington DC and the Midwest. Over the course of his career he has worked on litigation and policy related to climate change, addressing the water pollution impacts of mining, pesticide regulation, the environmental and health impacts of e-cigarettes, and environmental injustices perpetuated by the administrative state. It has been his honor to partner in this work with tribes, local nonprofits, low-income advocates, coalitions of environmental and social justice groups, and local/state/territorial/federal public employees. Hudson received his law degree from the University of Iowa School of Law, and two Masters of Laws degrees in human rights and international law from New York University and the National University of Singapore. He received his bachelor's degree in French and English Literature from Carleton College, in Minnesota. At one point he was an avid runner and even won a marathon, but he won't mention it again if you don't.
Silvia Secchi is a professor in the Department of Geographical and Sustainability Science at the University of Iowa. Her work focuses on the interface between agriculture and the environment, particularly water and carbon. She is a natural resource economist by training, and her work typically combines methodologies from the social sciences, the natural sciences and engineering. She has published on the interplay between agricultural, conservation and energy policies, corn belt farmers' attitudes towards conservation, multifunctional floodplain management and targeted reconnection, invasive species management, and mitigation and adaptation to climate change in the agricultural sector.
Ingrid Gronstal is Water Program Director with the Iowa Environmental Council. She has many years of experience in water policy, most recently serving as the Compliance Specialist at the University of Iowa Utilities and Energy Management. She previously worked as a consultant with the the University of Iowa's Office of Sustainability and Iowa Learning Farms. Ingrid has a B.S. and a J.D. from the University of Iowa.   
Full details: https://uichr.uiowa.edu/event/85331/0