In celebration of Black History Month, the College of Law, UI Center for Human Rights, and Law DEI Committee welcomes a special virtual panel on February 22 from 12:40-1:40pm. The lecture is titled "The Johnson Family: Committed to the Law".
Join the event through livestream at https://uiowa.zoom.us/j/93436911010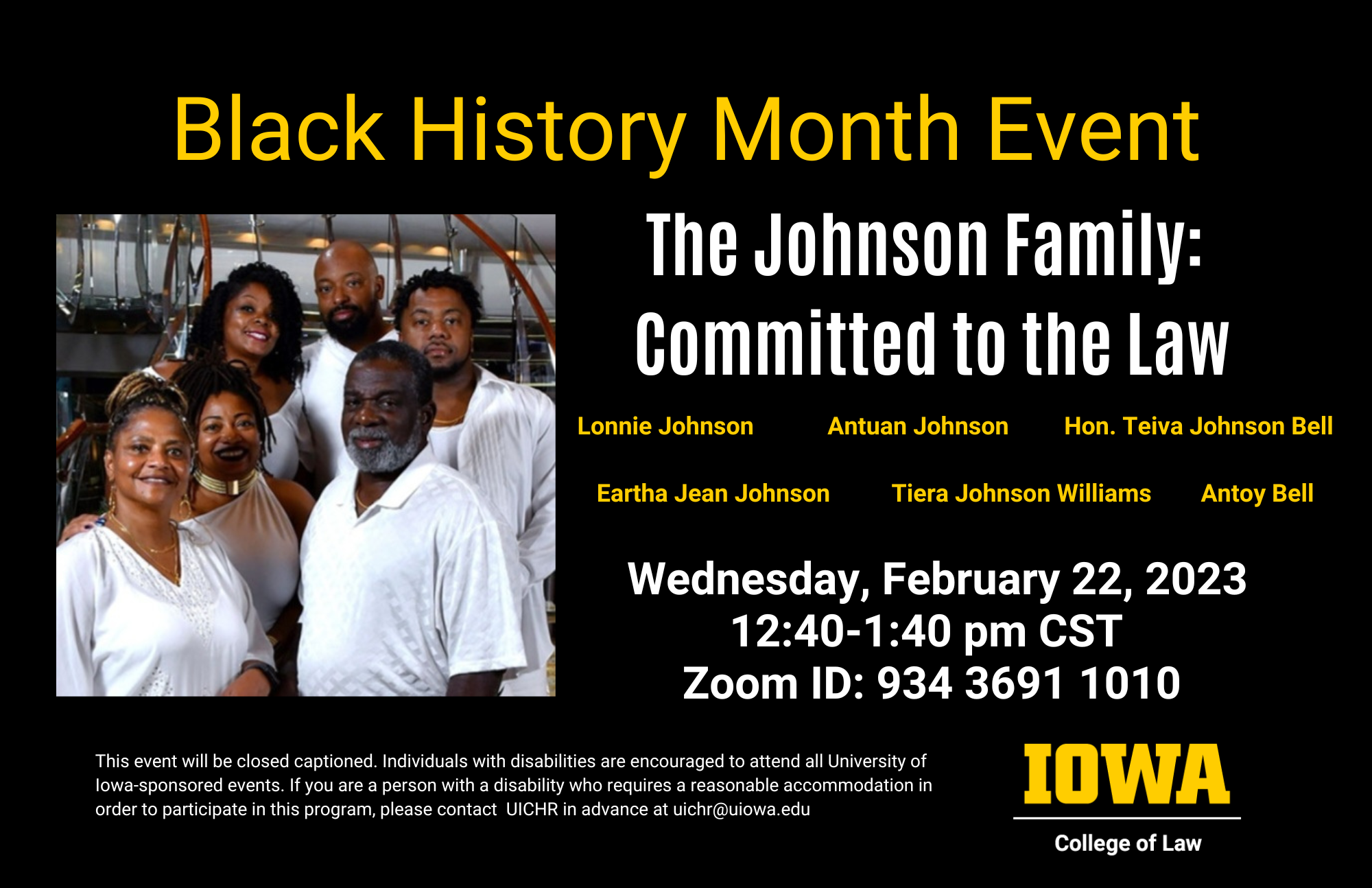 This panel will include:
Lonnie Johnson

Eartha Jean Johnson

Antuan Johnson

Teira Johnson Williams

Hon. Te'iva Johnson Bell

Antoy Bell
All are welcome to attend; prior registration is not required. This event will be closed captioned on Zoom. Individuals with disabilities are encouraged to attend all University of Iowa events. If you are a person with a disability who requires a reasonable accommodation in order to participate in this program, please contact UICHR in advance at uichr@uiowa.edu.
Eartha Jean Johnson is CEO of Risk Mitigation Worldwide (formerly LegalWATCH), an award-winning company she formed in 1997 after practicing law for Exxon and working for the United States Department of Justice, Kutak Rock, and AT&T.  Eartha uses her business background, experience and the knowledge she acquired practicing law to help executives avoid mistakes that often result in huge jury awards, compliance sanctions, negative media, and criminal liability.   Eartha has earned a Juris Doctorate Degree; Master of Laws Degree in Energy, Environment and Natural Resources Law; Bachelor of Science Degree in Business Administration; and Associate Degree in Criminal Justice.  She is also certified in training and development and holds a Senior Professional in Human Resources (SPHR) designation. Risk Mitigation Worldwide has earned numerous awards.
Eartha has served as President of the Houston Lawyers Association; Chair of the African American Law Section of the State Bar of Texas; President, Texas Executive Women; Community Organizer, NPursuit of Justice; Board Member, Women Business Enterprise Alliance and Houston Minority Supplier Diversity Council;  National Founding Member, WIPP ("Women Impacting Public Policy"); Board Member, NISH ("National Institute for the Severely Disabled"); Chair, Women's Lawyers Division of the National Bar Association; and served on the National Women's Business Council, a bi-partisan Federal government council that advises the President, Congress and the U.S. Small Business Administration on economic issues important to women.  Eartha is also a Trustee of the University of Nebraska Foundation, and serves on University of Nebraska Law School Advisory Board.  She is a WBENC Woman of Distinction and a member of the Women's Leadership Forum. 
Lonnie L. Johnson retired from Exxon Mobil Corporation in 2019 as Counsel, Downstream Commercial Litigation. Prior to serving in that position, Lonnie served as Senior Director, Federal Relations at Exxon Mobil Corporation, where he was a lobbyist in Washington, DC. Over his 28 year Exxon career, Lonnie served in various positions within Exxon and ExxonMobil. These positions include Strategic Issues Manager, Exxon Mobil Corporation, Counsel for ExxonMobil Exploration and Development projects in the Gulf of Mexico, Madagascar and Nigeria; Refinery Attorney, Baytown and Beaumont Texas refineries and Trial Attorney, Exxon Company U.S.A., Houston, Texas.
Lonnie received his J.D, with distinction, from The University of Iowa College of Law, where he served on the Iowa Law Review, and was a member of the Phi Delta Phi Legal Fraternity. He earned his B.S. from the University of Nebraska at Omaha.
Lonnie currently serves on the Board of the Congressional Black Caucus Foundation and on the Tugaloo College Research Board. Lonnie also serves on the Board of Silence the Shame, an organization dedicated to removing the stigma associated with mental illness and getting people the help they need.
He is a past Board member of the Council on Legal Education Opportunity (CLEO); and has been active in the State Bar of Texas, having served as a member of the Legal Services to the Poor Committee and past chair of the Opportunities for Minorities in the Profession Committee. He has served on various committees of the Houston Bar Association, the Houston Lawyers Association, the National Bar Association and the American Bar Association. During his 28 years at Exxon, Lonnie represented more than 100 women in pro-bono divorces.
In 1988, Lonnie became the youngest person elected to serve as President of the Omaha Nebraska Chapter of the National Association for the Advancement of Colored People (NAACP), and has served various other community organizations including the National Urban League.
During and after his time in DC, Lonnie became more politically involved. He has worked several local, statewide and nationally. Most recently, Lonnie served as a surrogate speaker for Joe Biden in his 2020 Presidential race, served on Biden's National Finance Committee and welcomed Biden into his Houston home for a fundraiser. Lonnie is a past Board member of the Congressional Hispanic Caucus and the National Democratic Club.
Lonnie is married to Eartha Jean Johnson and they have three children, Te'iva Johnson Bell (Criminal District Court Judge, Harris County Texas); Ti'era Johnson Williams (Prosecutor, Family Violence Cases, Harris
Antoy Bell is the Director of Human Resources for the 3,500 employees at Universal Plant Services, Inc., one of North America's largest comprehensive specialty service providers for the energy industry.  Antoy is a fourth generation Houstonian and a cum laude graduate of Morehouse College.  He earned his Doctor of Jurisprudence from the University of Iowa College of Law.  Antoy is certified as a Senior Professional in Human Resources and is licensed to practice law in the State of Texas and the United States District Courts for the Northern, Southern, and Western Districts of Texas.
Antoy has served as President of the Houston Lawyers Association; on the Board of Governors for the National Bar Association; Board Member, Specialized Carriers and Riggers Association Foundation; Board Member, Houston Morehouse Alumni Association; and current Board Member, The Varnett Public Schools.  Antoy is married to Te'iva Bell.  They have three daughters Anilah, Avani, and Ava.
Te'iva Johnson Bell is a Public Defender in Houston Texas who ran to bring true reform to the criminal justice system. Te'iva started out her career as a prosecutor in Harris County before, joining the Harris County Public Defenders Office where she is currently a Senior Litigator in the Felony Trial Section.
Te'iva is a Judge of the 339th Criminal District Court in Houston Texas. For the last fifteen years she has litigated almost every type of criminal case, and has had a front row seat to the best and the worst of what our system has to offer. She believes it is time to get past just talking about criminal justice reform, and actually start implementing practices that help make it a reality. Te'iva would like to bring mentorship, and restorative justice techniques to Harris County.
Tiera Johnson Williams is an Assistant District Attorney. Affiliations include the Houston Bar Association, HBA Habitat for Humanity Chair, and the National Association of Black Prosecutors. Her children are Lonnie, Liera and Levi.
Antuan Johnson is a lawyer in the Johnson and Williams Law Group. He is both a Criminal Defense Lawyer and an Entrepreneur.
---
---
A virtual lecture by Dr. Ashley Howard in honor of Martin Luther King Jr. was recorded and available on YouTube.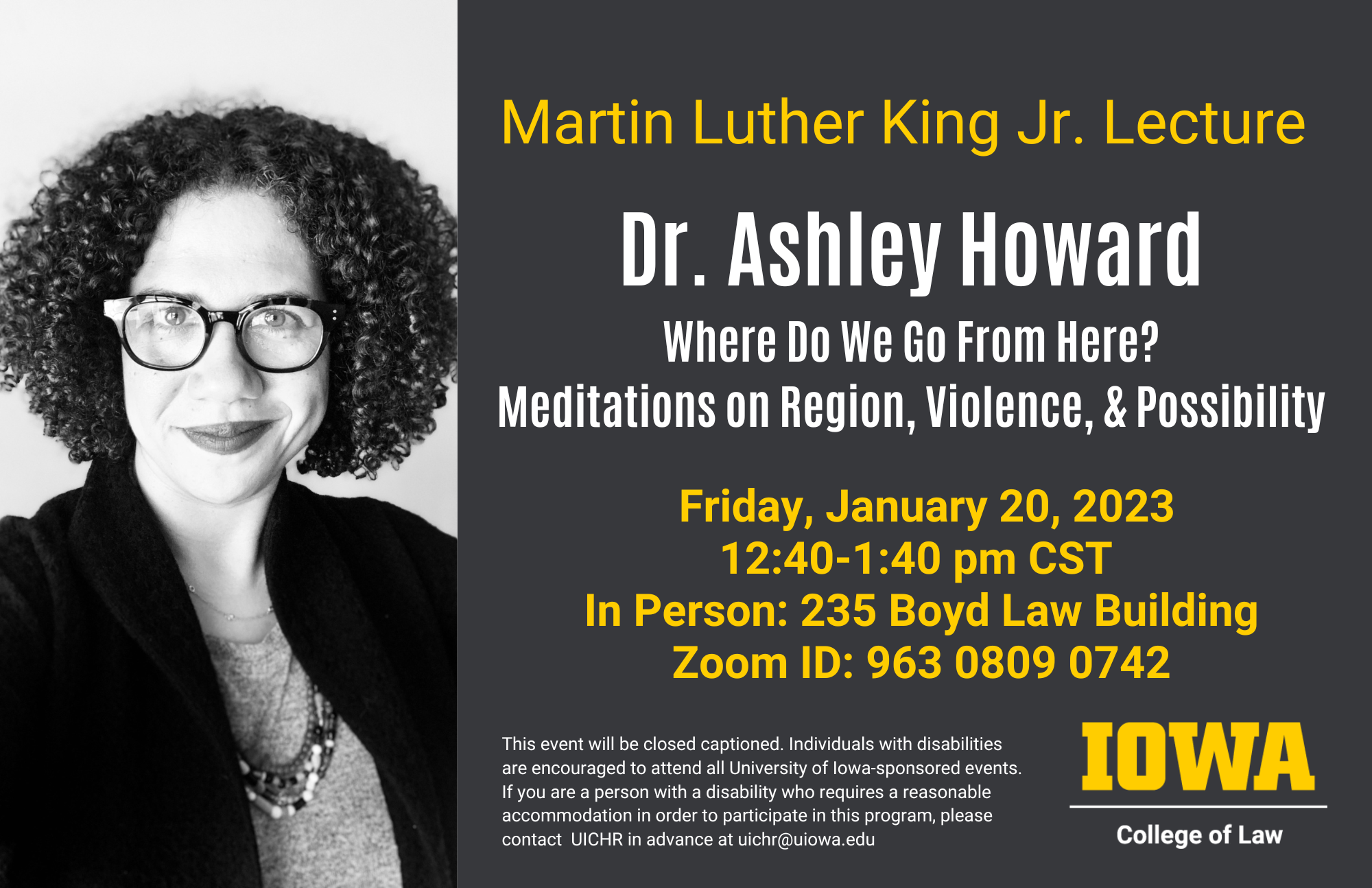 Ashley Howard earned her Ph.D. from the University of Illinois and is an assistant professor of African American History at the University of Iowa.  Her research interests include the Black Midwest; social movements; and the global history of racial violence. Her forthcoming book Prairie Fires, analyzes the 1960s urban rebellions in the Midwest and the ways race, class, gender, and region played critical and overlapping roles in defining resistance to racialized oppression.  
Dr. Howard's scholarship has appeared in the Journal of African American History, American Historian, Labor Studies Journal, and Middle West Review. Her 'Then the Burnings Began" article is the winner of the 2018 James L. Sellers Memorial Prize. Howard's work has also appeared in numerous media outlets including the Financial Times, Washington Post, BBC World News Hour, National Public Radio, and Al Jazeera English.  In 2021, she was recognized for her public-facing scholarship in the wake of the 2020 George Floyd uprisings with the university-wide Faculty Communicating Ideas award. 
As an educator, Howard's encourages her students to be effective writers, critical thinkers, and active global citizens. In documenting incarcerated people's experience with solitary confinement or identifying the connection between history and memory through a two-week Civil Rights tour, her students develop their skills through experiential learning. Howard also greatly values teaching opportunities where she can provide quality, university-level education to those with limited access.  
She is the executive producer of the documentary The African American Midwest: A 500-year Fight for Freedom and sits on several advisory boards. 
---
In celebration of Black History Month, the College of Law, UI Center for Human Rights, and Law DEI Committee welcomed a special virtual panel on February 10, titled "The Future of Blacks in Iowa". The recording is available on YouTube.
This panel was moderated by UICHR Director Adrien K Wing and included panelists:
Stacey Walker, Former Linn County Board of Supervisors

Wayne Ford, Former Iowa State Legislator

Mazahir Salih, Former Iowa City Mayor Pro Tem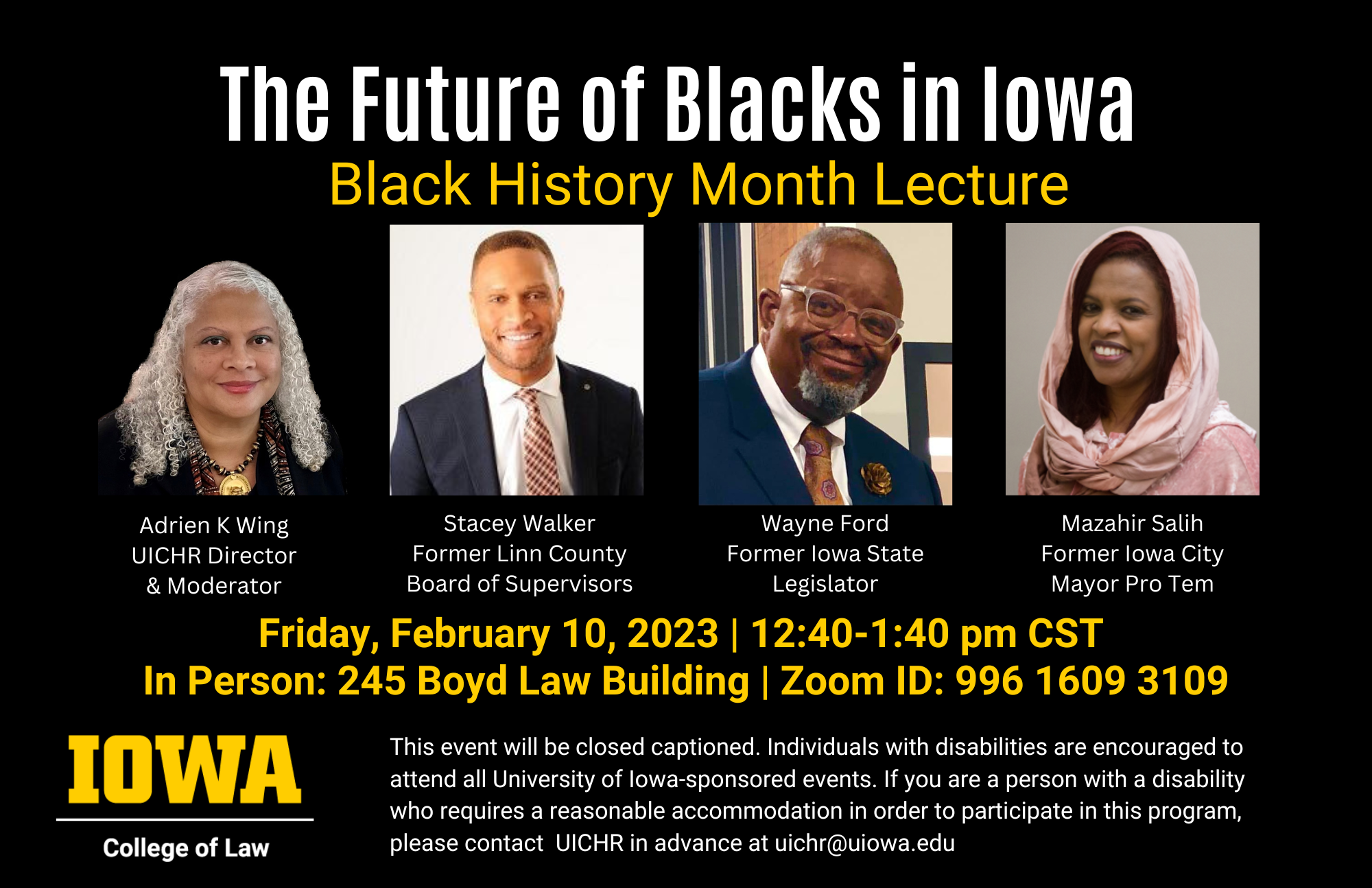 Panelists Biographies:
Stacey Walker
Stacey Walker was elected to the Linn County Board of Supervisors as the first African American to ever hold the position in 2018. Prior to his election, Stacey served as the Chief of Staff for Patel Endeavors and Hawkeye Hotels and also helped launch the LBA Foundation, a Cedar Rapids non-profit that helps middle and high school students stay on track to graduate. He then moved to Washington, D.C., to assist AOL Founder Steve Case and philanthropist Jean Case in their efforts to reinvigorate America's entrepreneurial ecosystem at the Case Foundation, a philanthropic non-profit that "invests in people and ideas that can change the world." He has also served on political campaigns at the congressional, gubernatorial and presidential level.
Stacey has served as Co-chair of the Safe, Equitable, and Thriving Communities Task Force, a multi-jurisdictional partnership between the City of Cedar Rapids, the Cedar Rapids School District, and Linn County to address systemic poverty and gun violence among other priorities. He serves as a trustee to the Cedar Rapids Community Schools Foundation and is a board member to the Academy for Scholastic and Personal Success and NewBo City Market. In addition to serving as the county's legislative liaison to Iowa's General Assembly, he serves on the Board of Directors for the Linn County Public Health Department, the Public Art Commission, the Workforce Development CEO Board, and the Large Investor Board of the Cedar Rapids Metro Economic Alliance.
Wayne Ford
Wayne Ward Ford was born in Washington D.C.'s inner city in 1951. He was a success on the football field, but he was also voted "most likely not to succeed" by his classmates because of his involvement in various juvenile crimes.
Despite that, Ford received a scholarship to play football for Rochester Junior College in Minnesota upon his graduation in 1969. He continued his football career and education at Drake University, graduating with a bachelor's degree in Education.  His papers, mementos, and photographs will be archived in the Drake University library in 2017.
Ford hosted his first U.S. Presidential Forum in 1976 under the name "Concerned Citizens for Minority Affairs" and many presidential candidates sent surrogates. Later that year he was the Minority Education Coordinator for the Iowa Jimmy Carter Presidential Campaign. In 1984, Ford, along with Latino community leader Mary Campos, founded the nonpartisan Brown & Black Presidential Forum (brownandblackforum.org). It is now the nation's oldest ongoing minority presidential forum/debate. The 1988 Forum was C-SPANs first "Road to the White House" production outside of Washington, DC. It has subsequently been broadcast and telecast nationally and internationally by MSNBC, BET, Fusion, Univision, the Black Family Channel, HDNet, Sirius Satellite Radio, Telemundo, and others. Drake University hosted the 2016 Forum for Democrat candidates in Old Main's Sheslow Auditorium.
In 1984, Ford was appointed by Tom Whitney, Chair of the Polk County Board of Supervisors, to the county's Pretrial Release Task Force.  Also in 1984, he began writing a column, "Wayne Ford's Perspective," for the New Iowa Bystander and became a mediator for the Polk County Attorney's Mediation Center, both of which he continued to 1986.
In 1985, Ford founded the nonprofit social service organization Urban Dreams (urbandreams.org) to serve the needs of Des Moines' inner-city residents. Ford has since served as the Executive Director. Urban Dreams is state licensed for outpatient substance abuse treatment, state accredited for mental health services, and active in enhancing public safety in the metropolitan area. As of 2017 Urban Dreams in collaboration with Broadlawns Medical Center and Wellmark Blue Cross / Blue Shield insurance company have created award winning job training programs for youth and adults that are models for the city of Des Moines, state of Iowa as well as the United States.
Ford was appointed to Iowa's Juvenile Justice Advisory Council by Iowa Governor Terry Branstad in 1989 and continued as a member to 1997. Reappointed by Iowa Governor Terry Branstad in 2012 and again by Governor Kim Reynolds in 2017.
In 1990, Ford was a member of the George Washington Carver Centennial Advisory Committee for Simpson College in Indianola, Iowa. From 1990 to 1995, Ford was President of the Center for the Study and Application of Black Economic Development which owned and operated low power minority community radio station KUCB. 
He was called "the voice of Urban Iowans" during his six year run, 1990-1996, as host of his own weekly talk show on Des Moines' WHO radio, one of the few 50,000-watt clear channel AM radio stations in the country. Iowans were also able to get Ford's perspectives through columns in Des Moines Press Citizen Shopper and his weekly "View from the Hill" article to in the The Des Moines Register.  He returned to the air waves from 2011 to 2015 with "Wayne Ford Wants U" on Mediacom cable television, seen in five Midwestern states. In 2017 his "Win For All" segment began airing on KCWI TV Des Moines. 
 In 1992, Ford began his own consulting firm, Wayne Ford & Associates (waynefordassoc.com).  WFA helps Iowa communities and companies deal effectively with increasing urbanization. Firms/organizations WFA has worked with include Principal Financial Group, Mercy Medical Center, MidAmerican Energy the YMCA and Broadlawns Medical Center. Also in 1992, he was instrumental in creation of Drake University's "Urban Issues" television show, its Research Center for the Study of Urban Problems, and its NCAA summer youth sports program. Also in 2002, he was appointed as a charter member of Drake University's National Advisory Board on Diversity.
Ford organized the most heavily attended workshop presented at the National Violence Prevention Conference that was held in Des Moines in 1995, when he also was a consultant to Iowa Public Television for its "Changing the Odds in Iowa" production on being a minority role model, in which he also appeared.
From 1995 through 2001, he was a community consultant for the Iowa Barnstormers Arena Football League team, the Des Moines' Dragons International Basketball Association basketball team and the Iowa Cubs Triple-A baseball team.  He was co-chair of the local Diversity Committee when the national AAU Junior Olympics were held in Des Moines.
Between 1995 and 2001, Ford was actively involved in efforts to preserve part of old Fort Des Moines as a national historic landmark and was a member of the Fort Des Moines Black Officers Memorial Board of Advisors. Fort Des Moines has a unique place in African American history by virtue of its having been the place black Americans were first trained to be U.S. Army officers during World War I.  During World War II, members of the Women's Auxiliary Army Corps (WAACs) were trained at Fort Des Moines.
Between 1995 and 2010, he worked with Iowa State University and the University of Georgia on the "Family and Community Health Study," which was the largest longitudinal study of African American families conducted in the country at the time. In 2008, he collaborated with President John Byrd of Simpson College in Indianola, Iowa, in creating the Simpson Urban Studies Institute (SUSI), to develop an applied research connection between academia and practice.  SUSI conducted an early study on the effects of minority migration to Iowa from the Chicago, Illinois, area and a study of the effects of Iowa's first in the nation minority impact legislation. 
Ford worked with then Iowa State Senator Tom Vilsack on his successful 1998 campaign for Governor by promoting his candidacy to minority Iowans. Vilsack appointed him co-chair of the Governor's Task Force on Overrepresentation of Blacks in Prison in 1999 and Iowa Governor Chet Culver appointed him to a committee to review progress in 2007.
Ford may be most well-known for his work under Iowa's golden dome. He served as an Iowa State Representative from 1996 to his retirement from the legislature in 2010, becoming the tenth African-American legislator in the state's history on his election and at the time, the longest-serving African-American legislator on his retirement. Ford served on nearly every House standing and appropriations committee. He authored Iowa's landmark Minority Impact Legislation, the first such legislation in the nation, requiring the effect on minorities be evaluated with respect to proposed criminal laws.  Connecticut, Oregon and New Jersey have since implemented similar legislation. He has been called the "father of lead paint prevention", because he was responsible for Iowa's law requiring testing for lead paint exposure when children start in school.  His amendment to the Department of Human Rights Budget bill in 1999 called for the study of persons with Asian Pacific Island descent that led to creation of the Commission for Asians and Pacific Islanders in 2004.
Ford was Chair of Region XI (Iowa, Nebraska, Missouri and Kansas) of the National Black Caucus of State Legislators (NBCSL) in 2006 and chaired the NBCSL's Insurance Committee in 2007, when he organized the NBCSL's first national insurance symposium in Des Moines. He was First Vice-Chair of the NBCSL Business, Finance, and Insurance Committee and the Sports and Entertainment Committee from 2008 to 2010.  He authored landmark NBCSL resolutions on minority impact statements, health care, college student athletes, telecommunications and economic development.
From 1999 to 2009, Mr. Ford was a member of the Board of Trustees of the Milton S. Eisenhower Foundation of Washington D.C., a social advocacy organization.  Between 2005 and 2009, he was on the board of Boardroom Bound, a national organization promoting election of women and minorities to corporate boards of directors. In 2015, he became a member of the Leadership Council of Opportunity Nation, the purpose of which is to revitalize the American dream. 
Ford was inducted into Iowa's African American Hall of Fame in 2004, he was also appointed by Governor Tom Vilsack to be a member of the Governor's Nonprofit Task Force, which created "Principles and Practices for Charitable Nonprofit Excellence."
Ford's dramatic rise from D.C.'s inner city to Iowa's capitol has been chronicled in numerous locals and national publications, including The Washington Post, Washington Times, Parade Magazine, Source Magazine, and The Des Moines Register. In 2001, award-winning journalist Dan Rather personally selected Ford's unique life story for inclusion in Rather's best-selling book, The American Dream.
Following disturbances at the 2010 Iowa State Fair, Ford organized a series of meetings with community leaders to explore and develop ways to improve public safety in Des Moines and there have been no further such disturbances at the fair.
In 2016, he brought the presidents of Simpson College, Drake University, Grand View University, and Des Moines Area Community College together to form to explore ways to collaborate for the common good.  That relationship has been fruitful, each entity is working individually to enhance their community.
Ford has received numerous recognitions and awards, including induction onto the Rochester Community College's Alumni Hall of Fame in 1994, Drake University's Double-D award for athletics and civic involvement in 1995, Des Moines B'nai Brith Sports Hall of Fame in 2002, and the Iowa State African-American Hall of Fame in 2004. He received the Harold Washington Pinnacle Award from the Iowa Commission on the Status of African Americans in 2008 and the Alexander G. Clark Community Service Award from the University of Iowa's Black Law Student Association in 2007. In 2009, The Des Moines Register presented him with its highest civic recognition award, the Iowa Star Award, for his impact on the State of Iowa. He received the Shining Star Award from the National Organization of Black Elected Legislative Women, an NBCSL affiliate, in 2008.  He was awarded the NBCSL Eagle Award for outstanding service to the organization in 2011. He was again appointed to Iowa's Juvenile Justice Advisory Council by Iowa Governor Terry Branstad and chair of its Disproportionate Minority Contact Committee in 2012. In 2016, he received the NAACP Des Moines Branch's Individual Community Service Recognition Award. In 2017, Ford co-founded with Iowa Workforce Development Director Beth Townsend, the Iowa Workforce Development Minority Subcommittee with the goal of increasing minority employment in the state of Iowa. He was also given the position of Visiting Assistant Professor of Urban Studies at Simpson College.
On May 20, 2018, Ford Received an Honorary PHD of Humane Letters from Drake University in Des Moines, IA.
 In June of 2018 Ford received a special recognition from the Iowa Juneteenth Observance Committee for his lifetime work.
2019-Ford became a member of Drake University Community Engagement Advisory Council,
 Drake University Football Alumni Board Committee, Drake University Black Alumni Reunion Planning Committee, Committee Member of Iowa Summit on Justice and   Disparities Advisory Council and Urban Institute Prison Research and Innovation Initiative Advisory Board. Ford also founded the Wayne Ford Equity Impact Institute.
2020--Ford became the recipient of The Daughters of the American Revolution's Medal of Honor. In 2021-Ford was selected as Senior Ambassador for Drake University's John Dee Bright College
Ford is currently working on his autobiography titled "Looking From the Ground Up."
Ford has one son, Ryan and one granddaughter, Faven
Co-Founder of Win For All (WFA in collaboration with Broadlawns Medical Center and United Way of Central Iowa, the major focus being prevention of COVID 19.
Co-Founder of the Iowa Public Health Association's Equity Committee.
Mazahir Salih
Twenty years ago community activist Mazahir Salih came to the United States from her native country Sudan. Although she had a degree in civil engineering, she found when she settled in Virginia that as an immigrant woman she would have to start her education and career over. This did not stop Salih, however; in 2011, she moved to Iowa City and pursued a degree in electroencephalography and graduated at the top of her class. Salih cares deeply about her community; she has become a long-time community organizer and family advocate in Iowa City. As the General Secretary of the Sudanese American Women and Children Organization, she has worked to bring together the Sudanese-American community in Iowa City. Further, because of her extensive experience in community planning and development, she has testified in Washington D.C. in front of the US Senate Judiciary Committee to advocate for immigration reform in 2013. She has led and organized workshops, forums, and training sessions for local and national organizations on community development, workplace, and immigration issues. Additionally, she serves the community in other ways, such as serving on civic boards and nonprofit organizations, some of which include: Black Voice Project (Iowa City), Police Citizens Review Board, Iowa Valley Global Food project, and more. In 2017, Salih was elected to the Iowa City City Counsel where she not only became the first Muslim to be elected to Iowa City Counsel, but also the first Sudanese American to ever be elected into an office in the United States, and on 2020 she became the Mayor Pro Tem of Iowa City. Salih is currently working at the Center for Worker Justice, an organization in which she co-founded and now operates as the Executive Director. At CWJ, she works to defend the rights of workers and work on behalf of labor and social justice issues.