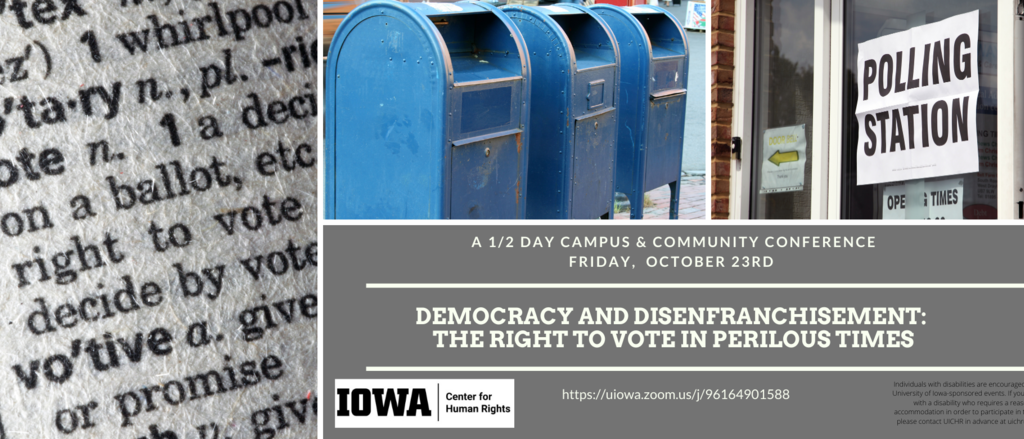 Democracy & Disenfranchisement: The Right to Vote in Perilous Times
Join us for a 1/2 day conference on democracy and voting. The conference will feature a keynote by Sophia Kin Lakin (National Deputy Director, Voting Rights Project ACLU) and a panel discussion led by Deidre DeJear, featuring Reyma McCoy McDeid (Central Iowa Center for Independent Living); Kameron Middlebrooks (former NAACP Regional Field Organizer); and Nick Salazar (Iowa State Director, LULAC). The conference will conclude with Know Your Voting Rights training and Q&A by Daniel Zeno (ACLU, Iowa) and Travis Weipert (Johnson County Auditor). Opening remarks by Paul Pate, Iowa Secretary of State.
Join the event at: https://uiowa.zoom.us/j/96164901588 This event is free and open to all campus and community members.
Agenda
| | |
| --- | --- |
| 12:00 | Introduction by Adrien Wing, Associate Dean and UICHR Director |
| 12:05 | Welcome by Paul Pate, Iowa Secretary of State |
| 12:15 | Keynote by Sophia Lin Lakin, Deputy Director, Voting Rights Project, ACLU |
| 1:15 | In Conversation: Barriers to Voting and How We Can Overcome Them with Deidre DeJear, Reyma McCoy McDeid, Kameron Middlebrooks, and Nick Salazar |
| 2:45 | Know Your Rights: Daniel Zeno, Policy & Advocacy Director, ACLU-Iowa |
| 3:15 | Voting in Johnson County by Travis Weipert, Johnson County Auditor |
| 3:30 | Q&A with Daniel Zeno and Travis Weipert |
Speaker Biographies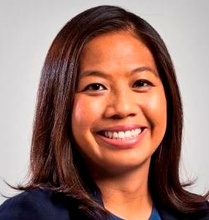 Sophia Lin Lakin (@sophlin229) is the Deputy Director of the ACLU's Voting Rights Project. Sophia has active cases protecting voting rights and combatting voter suppression across the country. She is currently litigating a number of cases to ensure that all voters are able to cast ballots safely during the ongoing COVID-19 public health crisis, including in Georgia, Missouri, and Tennessee. Her other cases have included: League of Women Voters of Tennessee v. Hargett (challenging a Tennessee law that imposes onerous requirements and substantial criminal and civil penalties on community based organizations that conduct voter registration drives); Common Cause v. Lawson (challenging an unlawful purge program in Indiana); Texas v. Crystal Mason (representing Ms. Mason in her appeal of her conviction and 5-year sentence for allegedly improperly casting a provisional ballot); and Fish v. Kobach (challenging documentation requirements for voter registration in Kansas); League of Women Voters of NC v. North Carolina (challenging cutbacks to early voting and the elimination of same-day registration in North Carolina).
Sophia is a frequent commentator on voting rights issues, presenting at conferences and conducting voting rights trainings nationwide. She speaks regularly to both national and local media on a wide range of topics that touch on voting rights. Before joining the ACLU, Sophia clerked for the Honorable Raymond J. Lohier, Jr. of the U.S. Court of Appeals for the Second Circuit and the Honorable Carol Bagley Amon of the U.S. District Court for the Eastern District of New York. Sophia received her J.D. from Stanford Law School. She also received her M.S. in Management Science & Engineering and B.A. in Political Science from Stanford University.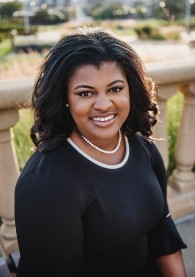 Deidre DeJear is an entrepreneur and social activist with over 10 years of experience assisting small businesses and community organizations. In 2008 she started her own small business, Caleo Enterprises, which has provided over 400 entrepreneurs and nonprofit organizations with affordable marketing tools and business strategies. Deidre was the Iowa African-American Vote Director in the 2012 campaign to re-elect President Barack Obama. She developed and implemented a program to educate, motivate, and mobilize low-propensity voters. Her engagement began managing the United Way of Central Iowa's Financial Capability project. Over the last 5 years, Deidre has developed and implemented a collaborative that targets low to moderate income individuals and families, giving them access to mainstream financial systems & products and increasing their financial management knowledge and skills. In 2018 Deidre became the first African American to be nominated by a major party in a statewide election in Iowa. As a candidate for Secretary of State, Deidre earned over a half a million votes. Most recently, Deidre served as the Iowa Campaign Chair for Senator Kamala Harris' presidential campaign.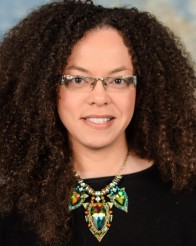 Reyma McCoy McDeid is the executive director of Central Iowa Center for Independent Living (winner of the 2018 Organization of the Year award from the Des Moines Civil and Human Rights Commission) and serves as treasurer and Anti-Racism and Equity Taskforce Co-Chair for the National Council on Independent Living. She is the recipient of a 2019 AT&T Humanity of Connection award and her 2018 run for office was endorsed by the Working Families Party, the Asian & Latino Coalition, and Iowa Women for Progressive Change. She is also a single mom. Her work has been featured in Vice, Pantsuit Nation, TIME, USA Today, The Guardian, and The Des Moines Register. After a twenty year career in social services, her vocation has shifted from simply serving marginalized people to addressing how systems create them in the first place.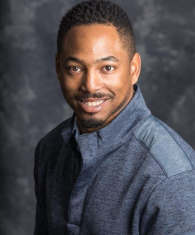 Kameron Middlebrooks is the former Midwestern Regional Field Director of the NAACP. As Regional Director, he organized a voter registration campaign that registered over 15,000 people of color across the Midwest; he also actively engaged Iowa-Nebraska state conference in talks with Iowa's Governor to streamline the process for felons to regain their right to vote. Prior to that role, Kameron was a field organizer for Barack Obama's Presidential campaign in Des Moines and served as a youth representative to the NAACP National Board of Directors.
After working at the NAACP, Kameron started his own marketing and management firm and then worked at the Evelyn K. Davis Center. In his current role as the Minority Business Coordinator for Iowa State University Extension and Outreach, Kameron collaborates with and delivers educational programs to build capacity and strengthen networks among minority-led organizations and small businesses in Iowa's major metropolitan areas.
In December 2018, Kameron was named one of Des Moines Register's People to Watch. In May 2020, Kameron was named Iowan of the Week by Congresswomen Cindy Axne.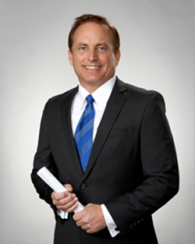 Iowa Secretary of State Paul Pate has dedicated his life to public service.  He has served a State Senator (1989-1994), as mayor of Cedar Rapids (2002-2006), and is now in his third term as Iowa's Commissioner of Elections. Secretary Pate is guided by three core principles: service, participation and integrity. 
Upon returning to the Secretary of State's office in 2015, Pate worked to increase voter participation by instituting online voter registration, which was used to register more than 250,000 voters by July 2018.
Secretary Pate served as President of the National Association of Secretaries of State 2019-20. He earned the organization's 2019 IDEAS Award for Iowa's efforts to strengthen election cybersecurity. Pate currently co-chairs NASS' Cybersecurity Committee. In 2015, Pate was chosen for the Council of State Governments' Toll Fellowship, the nation's oldest and most prestigious leadership development program for state government officials. In 2019, the U.S. Elections Assistance Commission awarded his office with the 'Clearie' Award for Improving Accessibility for Voters with Disabilities. The National Student/Parent Mock Election organization awarded Secretary Pate with the Outstanding Leadership in Voter Education award in 2016.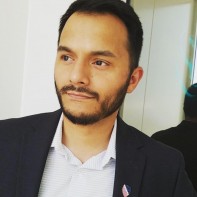 Nick Salazar is a community organizer and civil rights activist. In May, Salazar was unanimously elected as the State Director at the League of United Latin American Citizens of Iowa (LULAC) and became the youngest person to serve in the role in the 62-year history of the organization in Iowa. Salazar has played an important leadership role in LULAC's recent successful efforts to strike down parts of Iowa's voter ID laws.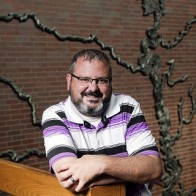 Travis Weipert is a life-long Iowan, raised on the Mississippi River in Marquette, Iowa.  He received his BS in Business Administration from the Mount Mercy University.  Then, he spent the next 12 years working at AEGON.  He joined the Auditor's Office in 2012 as Johnson County Auditor and is wrapping up his second term.  He married his wife in 2012, and adds that "against my better judgment we have a cat and two dogs." In his spare time, he likes to boat, fish, and watch the Iowa Hawkeyes.
Daniel Zeno is policy and advocacy director at ACLU of Iowa. He leads the ACLU of Iowa's legislative, policy and advocacy work, including lobbying state legislators, the Governor, and policymakers at the county and city levels and maximizing the strength of the organization's growing network of members, supporters, partners, volunteers, and activists to advance ACLU initiatives and priorities. Prior to joining the ACLU of Iowa, Daniel represented Iowans living with low-income in civil cases as a staff attorney at Iowa Legal Aid. Daniel is a graduate of The University of Iowa College of Law, Indiana University Bloomington and Wabash College.